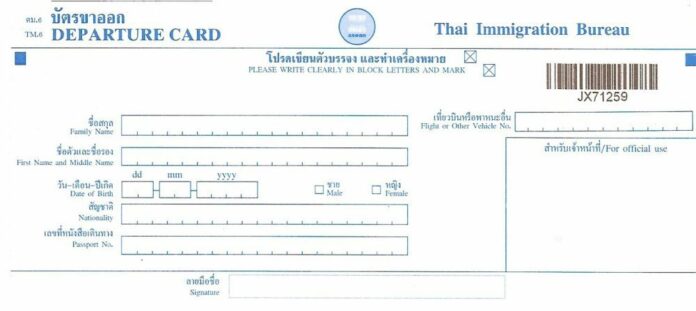 Update: The government announced Thursday that the move of departure and arrival cards will happen on Sept. 16
BANGKOK — Thai citizens can dispense with filling out departure and arrival cards when they travel starting this Saturday.
Maj. Gen. Sansern Kaewkamnerd said Tuesday that the National Council for Peace and Order, as the junta calls itself, has agreed that Gen. Prayuth Chan-ocha should wield his supreme power to obviate the need for the cards known as Tor Mor 6 for Thais.
The move will start on Sept. 16 and would increase convenience for Thai travelers, according to Sansern.
Authorities scrambled last month to remedy miserably long queues at airport immigration controls.
For non-citizens, a new version of the form will come into use Oct. 1.
Related stories:
Here's the New Immigration Card. It's the Same But With Less Space