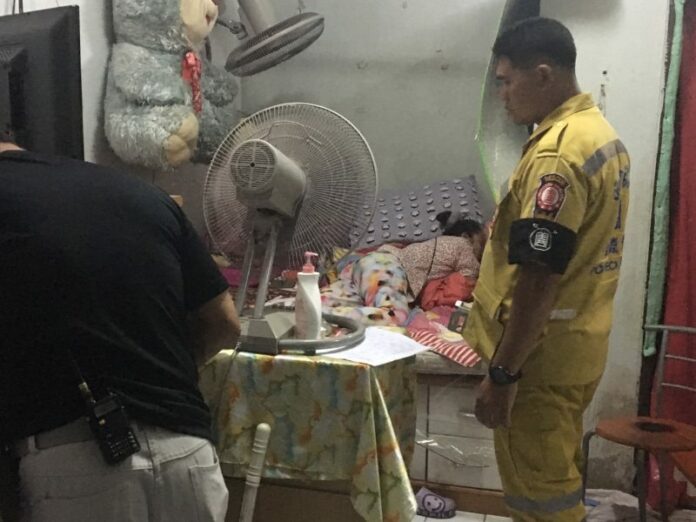 BANGKOK — A mother confessed to strangling her autistic teen daughter to death before attempting to kill herself Tuesday morning in Bangok's Chatuchak district.
Police and rescue officials responded to a call at 3am to the Sermsiri Dorms across from the Khlong Prem Central Prison. There they found Yolwadee Saikruekam, 52, crying next to the body of her 15-year-old daughter, Chatiya Wongthong in the room they shared.
"I couldn't handle the burden. I've tried to kill my daughter for a long time and tried to find the least painful way," Yolwadee said.
On Monday, she quit her job and allegedly used a strip of cloth to strangle her daughter at about 9am. She said she later went to sleep and woke at about 2:30am early Tuesday morning. She bought three beers to drink with sleeping pills in what she described as a suicide attempt, but vomited everything out.
Police, who received an anonymous tip about an incident in Yolwadee's room, arrived shortly after.
Lt. Capt. Ukrit Suthiraphongsit of Thung Song Hong police said Chatiya's body showed no signs of struggle.
Yolwadee was inebriated and crying when she was taken to Kasemrad Prachachuen Hospital. The mother is due to undergo further questioning when she is in better physical and psychological condition, Ukrit said.
Officials collected 30 Diazepam pills found on the nightstand as evidence. They also found a meter-long chain with which Yolwadee said she secured the room's door when she went to work, locking Chatiya inside. She claimed the girl would otherwise wander outside.
Yolwadee, whose husband died of lung cancer three years ago, told police she worked as a maid. Chatiya – her only daughter – was unable to attend school because of her condition.
The mother and her husband had worked to support Chatiya together until his death. Yolwadee said she was overcome by stress trying to support her daughter's medical fees.