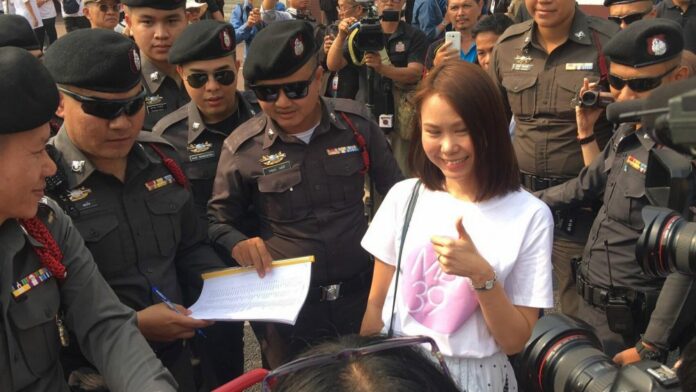 BANGKOK — All protest leaders were freed on their own recognizance Thursday evening after judges rejected a police request they be denied bail and sent straight to jail.
The court cited the five defendants' cooperation and claim they will break the law again merely a "prediction," the Bangkok South Criminal Court let them walk free at about 7pm. Thirty other protesters facing lesser charges for attending the rally late last month were freed earlier in the day without posting bonds.
Nine people identified as leaders of the Jan. 27 protest, mostly prominent figures in the pro-democracy movement, were formally charged with inciting rebellion. Four were no-shows at Friday's arraignment.
Read: Courts Release 30 From MBK39, Weigh Bail For Leaders
The court turned down deputy police chief Srivara Ransibrahmanakul, who had initially wanted all of the so-called MBK39 jailed until trial before targeting only the nine leaders.
Human rights lawyer Arnon Nampa, one of the alleged leaders, said the bail money raised before Thursday's hearing would be used to defend other cases involving civil rights and activism.
A follow-up protest is planned for Saturday at Bangkok's Democracy Monument. Protesters are expected to renew their call for junta leader Prayuth Chan-ocha to stick to a promise made last year to hold elections in November, a prospect that seemed to have dimmed recently.
Related stories:
Asserting 'Thailand First,' Prayuth Says Elections Up to Him
Story: Todd Ruiz, Teeranai Charuvastra