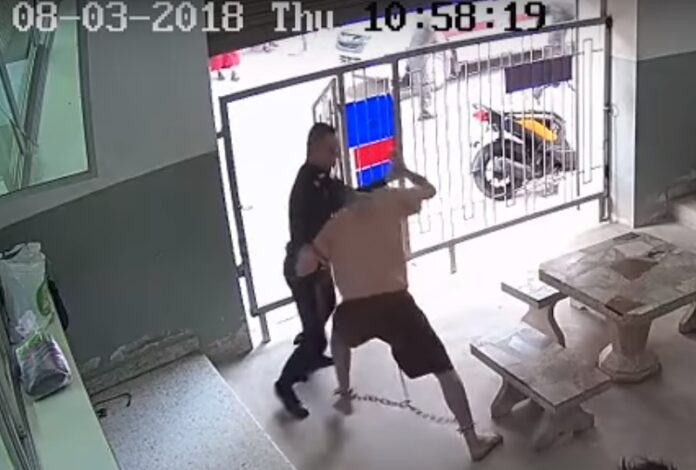 NAN — Police on Friday were hunting for a suspected drug dealer who made a brazen escape from at a court building by just shoving his way out the door.
Adirek Chomphuros, 36, pushed past police officers guarding him at a court Thursday morning and ran for freedom just hours before he was due to hear the verdict in his narcotics trafficking trial. A provincial police commander said he's ordered an inquiry into how the suspect managed to flee the scene despite wearing foot shackles.
"The Forensic Police must explain to me how chains can snap like that," Attasit Sudsa-nguan said. "If the shackles were properly locked, there would have been no way he could have run like that."
All officers involved in the incident were placed under disciplinary review, the police major general said.
Yesterday morning, Adirek and co-defendant Prachan Chaichana, were brought from prison to Nan Provincial Court.
In security camera footage released to the media, Prachan first made the attempt to escape, pushing past guards and through a gate. After seeing Prachan's escape, Adirek followed suit.
But while Prachan was quickly apprehended at the scene, Adirek ran into a nearby temple and rode away on a motorcycle he stole. Maj. Gen. Attasit said police are close to arresting Adirek.
"We have put pressure on everyone close to him," Attasit said. "His family, his siblings, his friends."
If apprehended, Adirek will face additional charges of theft, contempt of court and escaping from custody.