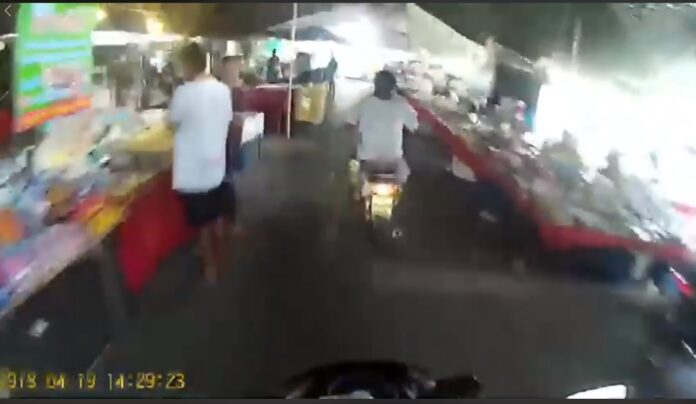 SONGKHLA — Thursday began like any ordinary day for Capt. Thanpisit Muangchan and his patrol team. That is until he spotted a man on motorcycle with what he suspected to be narcotics.
Within moments, Thanpisit was blasting through traffic, dodging oncoming cars in hot pursuit, zigzagging through food stalls only to give chase on foot, vaulting over baskets of fish and pork.
The fugitive's flight was eventually arrested when a bystander blocked his path.
"Of course, I was afraid for my life," Thanpisit said of the moments he was zooming into oncoming traffic. "But as a law enforcement officer, seeing a suspect fleeing like that, I had to calm my nerves and do my duty."
And fortunately, despite the reckless pursuit, no innocent onlookers or motorists were injured in the process.
#หนีสุดชีวิตคลิปนาทีไล่ล่าจับกุม (มีต่อโปรดติดตาม) เจ้าหน้าที่ตำรวจ สภ.สะเดาออกตรวจพื้นที่พบผู้ต้องสงสัยบอกให้หยุดแต่ทำไงไปดูกัน

โพสต์โดย ตำรวจภูธรสะเดา เมื่อ 19 เมษายน 2018
#ตอนจบจริงๆนะ ขอไลค์ เป็นกำลังใจเจ้าหน้าที่และพลเมืองดีด้วยครับ โดนไปหลายกระทง ขวดเดียวแท้ๆ หลักๆ มียาเสพติด(น้ำต้มพืชกระท่อม)ไว้ในครอบครองโดยผิดกฎหมาย และ พรบ.จราจรทางบก ขัดคำสั่งเจ้าพนักงานซึ่งปฏิบัติการตามหน้าที่

โพสต์โดย ตำรวจภูธรสะเดา เมื่อ 19 เมษายน 2018
Footage of the six-minute chase recorded on his helmet cam posted online Thursday night by Sadao district police has been watched more than a million times.
"This is no less fun than foreign videos of people fleeing from cops, but our Thai version is better," user Montree Suwannikom said in a comment. "They took us through tourist destinations through the markets. This is like promoting tourism. Well done! In next video they should chase through hills, pass waterfalls and drive through shopping malls."
In an interview, the policeman in the now-viral pursuit said he's been in the force for 17 years but never been in a high-speed chase like this.
"I never had to go through markets before," Thanpisit said, adding that officers in his team all wear cameras that they turn on whenever they encounter notable incidents.
"I already shouted at him to stop, but once he saw us, he fled. That's where the video began," he said.
The suspect was identified as Muhammad Ameen, 31. He was charged with narcotics possession, operating a vehicle without regard to the safety of others and disobeying police officers. Muhammad is currently behind bars awaiting a court custody hearing.