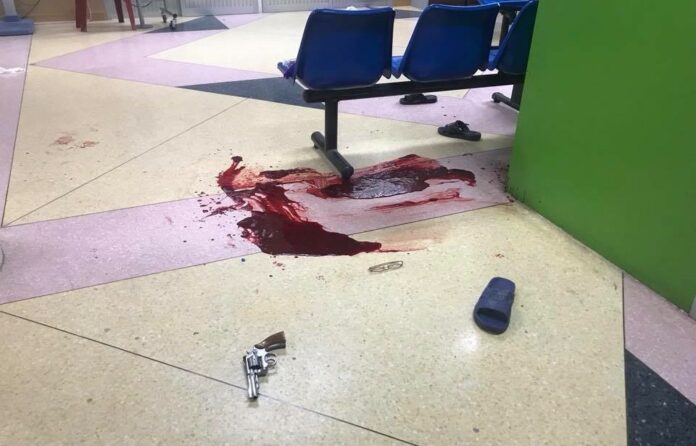 NAKHON PATHOM — Succumbing to his rage, a Nakhon Pathom man walked into a hospital Friday and took the lives of his wife and father-in-law before turning the gun on himself.
Blood splattered the floor of the Nakhon Pathom Hospital waiting room after Chaiyaporn Chaowanakamon, 31, opened fire and shot to death Sampan Tanamsri, 60, and Tunyamad Tanamsri, 29, who five months ago gave birth to their child.
A bystander was wounded in the leg.
According to Nakhon Pathom police, Tunyamad had come to the hospital to treat postpartum-related symptoms with her father. Chaiyaporn stormed into the hospital later and called them out to talk.
He got into a heated argument with Sampan, who reportedly wanted his daughter to leave him. As Sampan was trying to stop Tunyamad from going, Chaiyaporn took a .38 millimeter gun out of his bag and shot Sampan into his head.
He proceeded to shoot Tunyamad at her chest, arm and back. The bystander, Duanglak Siripittrakul was injured by bullet fragments. Chaiyaporn then shot himself dead in the head.