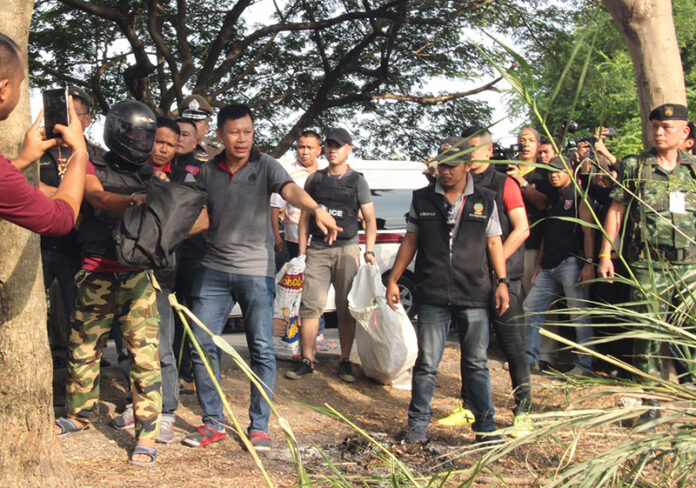 BANGKOK — A man on Sunday pleaded guilty to murdering his ex-girlfriend and then chopping her body into 14 pieces because he was jealous that she was seeing someone else.
Two days after Laksana Kamlangkeng's body was found stuffed in sacks left hidden inside woods in the capital's Khlong Sam Wa district, police extracted a confession from Thanakrit Prakob based on security camera footage showing Laksana enter his room and never emerge.
In a calm manner, Thanakrit, 36, told police his 24-year-old girlfriend broke up with him last month and told him that she returned to her ex-husband with whom she had two children. She had gone to collect her belongings from his room on June 12, at which point they got into a heated argument and Thanakrit struck her in the head several times with a hammer.
He then kept Laksana's body in the room overnight, police said, before dismembering her the next day and disposing of her remains June 14.
After the body was found Friday, police from neighboring Min Buri district said the culprit seemed to have some expertise in carving a human body. It was later discovered that Thanakrit once worked as an assistant chef and butcher. He also shared an article about the body's discovery on his Facebook page Saturday morning.
He is now charged with murder and concealing the body to hide his crime.
Still, Thanakrit maintains that it was an unplanned crime of passion, a deputy chief of the metro police force's third division said Monday. Col. Chanwit Poompoh added that the man does not appear to suffer mental illness.
As for why Thanakrit shared the news of the discovery of Laksana's body on Facebook, Chanwit said he wanted to divert attention from himself and made no plans to flee because he was certain no one would be able to identify the body.
The victim's family told reporters that they want Thanakrit executed.