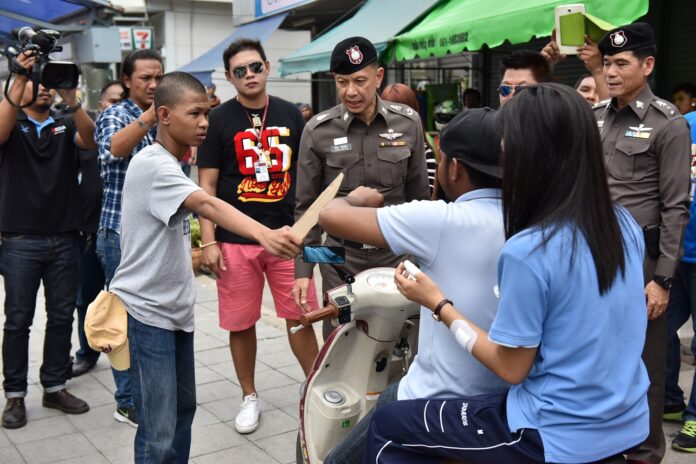 BANGKOK — A Bangkok man confessed today to slashing a woman's arm with a knife last week, but said it was a case of mistaken identity because he was really drunk at the time.
Worawat Lungsan, 21, said Wednesday that he was out in the Min Buri district looking to score some more cough syrup to keep his high going when he saw a teen couple on a motorcycle late in the afternoon of June 19.
That's when Worawat, a student in a government continuation school, attacked them with a knife because he thought they were students from archrival Min Buri Polytechnic Vocational School who had previously assaulted him.
At the moment Worawat slashed, 18-year-old Suttida Songserm, who was seated in back, raised her arm to protect her boyfriend up front. Worawat's blade cut into her arm.
At that point, the accused assailant's friend, 22-year-old Wanchana Chaonahee, ran to the scene in front of Soi Hathai Rat 1. He apologized to the couple, explained Worawat was confused, and then helped him flee by motorcycle.
The incident became a cause of justice du jour online as a passing Good Samaritan helped the couple post a video of the attack on Facebook soon after the attack. It was shared more than 12,000 times.
Police tracked the suspects from security camera footage and brought them for a police "re-enactment" today. Both men were charged with assault and carrying a knife in public.
Worawat apologized to the victims. He said he was carrying the knife in order to protect himself, as he had just been attacked by students from a rival school three days earlier.
Related stories:
Teen Says He Stabbed Engineer to Death for His Motorbike
Engineer Stabbed to Death on Busy Lat Phrao Roadside (Video)