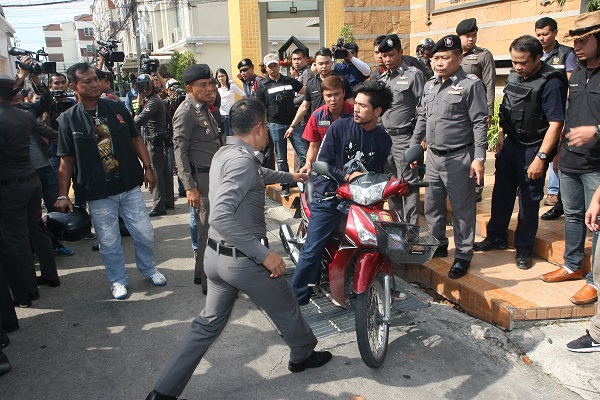 BANGKOK — Two weeks after he was seen stabbing a man to death on a busy Lat Phrao district street, the confessed murderer said he just wanted to take his motorcycle.
Waranyoo Choomanee, 19, was arrested Saturday in his hometown Nakhon Si Thammarat for the May 25 murder of Narate Wangthangmee, who was seen on video being stabbed to death as he waited on his parked motorcycle in front of the Baan Klang Muang community between sois Lat Phrao 23 and 25.
Brought to participate in a police "reenactment" of the crime Sunday, Waranyoo reportedly told police he didn't mean to kill the 32-year-old engineer when he walked up and drove a blade into his torso. He said he just wanted to steal his motorcycle.
He denied having known Narate personally, but acting metro police chief Sanit Mahathavorn said they've yet to determine his motive.
The security camera footage from that day showed Waranyoo abruptly attack Narate by stabbing him in the chest and pushing him off his motorcycle. While Narate struggled to resist him, Waranyoo tried to escape the scene on his victim's motorcycle, but was stopped by a passer-by who intervened. He then fled on foot.
Soon thereafter, Narate died on the scene next to his motorcycle.
Waranyoo's had a prior arrest in the same area last year on a drug-related charge. He is currently being held at the Phahonyothin Police Station.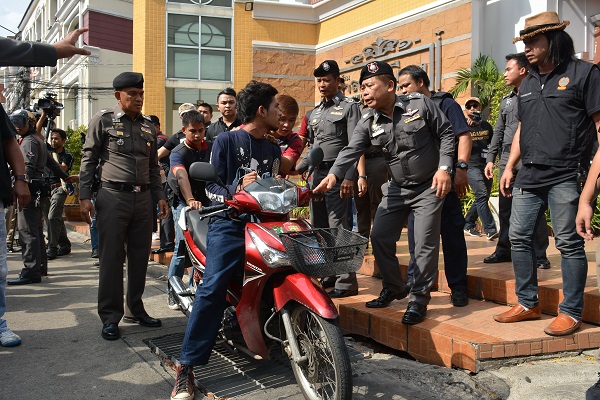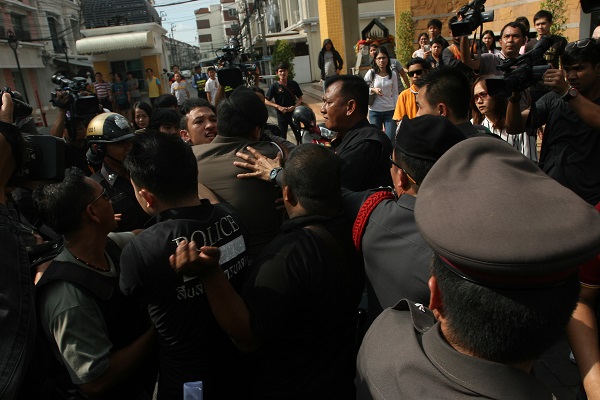 Related stories:
Engineer Stabbed to Death on Busy Lat Phrao Roadside (Video)