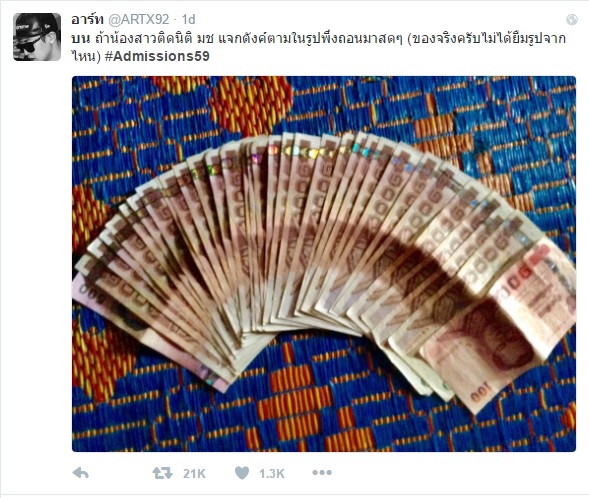 BANGKOK — There were no pig heads, traditional dances, floral garlands or the usual ceramic zebras. When it came time to seek divine help, Gen Z bribed the gods with more practical things such as 1,000 baht banknotes, teen novels and Line sticker sets.
And in the latest development to the mass culture of superstition, they're not taking their bribes to any shrine. Rather, the children of the net have embraced a platform they find more familiar – one that only requires their bon not exceed 140 characters.
In a country where a bachelor's degree matters less than where you obtain it, it's no exaggeration to say Sunday was a big day for Grade 12 students, who found out if they were accepted by any of the four universities where they sought entry.
It's a time when even the most modern youth resort to superstition such as bon, a sort of prayer-cum-bribe in which promises are made in return for divine assistance. In the run-up to Sunday's announcement, they took their cyber-bon to Twitter, specifically those who cared enough to retweet their prayers.
"Bribe: If I get into any of faculties on my first to third rank, I will pay 500 [baht] to those who retweet this #Admissions2016 #dek2016," @poppyishappy tweeted Saturday night. It was retweeted nearly 8,000 times.
https://twitter.com/poppyishappy/status/739338612588716032
The bon tweets were among more than 350,000 messages hashtagged #Admissions59 to trend on Twitter during the weekend. Many seemed to target entry into science and technology related faculties.
Others just laid out cash for all to see.
"Bribe : If my sister gets into Faculty of Law, Chiang Mai University, I will give away all the money in this photo I just withdrew," @ARTX92 tweeted along an attached photo the author insisted was genuine. That went on to be retweeted 21,000 times.
https://twitter.com/ARTX92/status/739385660818132992
It's a digital take on the bribery of the gods found across the country. People make such bribes asking for pretty much anything, from finding a lover to not to being conscripted into the military. While people get creative with the bribes, there's one important rule: make good on your end of the deal once you get what you want.
But it might be the first time the practice has made the move onto social media. For the 2016 version, the system was more lucky draw than bribe: Those who retweeted would be randomly selected for the specified prize.
It's just another example of the technologization of superstition, like online horoscopes or the Luk Thep haunted doll fad, according to a Silpakorn University professor of religion and philosophy.
"Scientific thought has not developed in Thai society despite all the developed technology," Komkrit Uitekkeng said. "So when technology was introduced, it ended up serving our old beliefs."
Komkrit does not, however, find this absurd. Unlike cultures where religion and beliefs are more likely to correlate with general thinking and living, he said, Thailand has long separated superstition from book-learning.
"Hence we cannot guarantee that people who study science will have a scientific thinking process," he said.
Even though youth have more access than ever before to the world's information and knowledge, Komkrit said nothing has really changed because they still learn and study under the same structures.
"The schools never help them develop critical minds," he said. "And even in a school that wins some awards for scientific or technological contests, you can still see they have their own sacred things they worship."
It was unclear by Monday afternoon whether the tweeted offerings had worked. But one thing the phenomenon made clear is the persistency of habits rooted in the cultural long, long ago.
To Komkrit, the teen phenomenon reflects the problems of dependency, which stem from social power relations.
"Bribing the gods reflects dependence on some special, outside power," Komkrit said, saying it was similar to the special favors sought through social and other connections.
"We wait for special power even in politics, just like how we wait for the spirits to save us," he said.
Related stories:
'Luk Thep' Craze Draws Haunted Doll Backlash (Photos)
Media Enables Sorcerers, Seers to Capitalize on Stricken Star