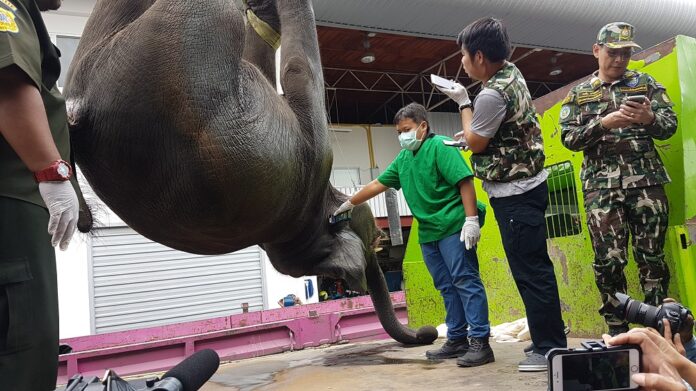 BANGKOK — Junta chairman Prayuth Chan-ocha urged officials to find out who was responsible for a young elephant that died while being forced to beg on the street, a government spokesman said Monday.
The junta chief also encouraged the public to report any beggar elephants in the city to the authorities, spokesman Sansern Kaewkamnerd told reporters. An official in Surin province, where the 10-year-old animal was from, said he was still unable to identify who owned and leased the elephant to the mahouts.
"The prime minister stressed that this was not the first case, and that elephants are animals closely tied to Thailand," Sansern said. "Now that this incident happened, he believes many Thais are upset … this is unacceptable."
Read: Mahouts Charged After Young Elephant Dies From Fall, Electrocution
"He has asked for cooperation from the people … to report any tip to relevant agencies for an immediate action," the spokesman added.
The male elephant, called Nam Chok, fell through a makeshift drainage cover Friday night in Samut Prakan province, where two mahouts forced him to sell food on the streets. The elephant died an hour later after falling and being electrocuted.
The two mahouts were subsequently charged with animal cruelty, illegal transportation of an animal and blocking road traffic.
One of the two suspects, 15-year-old Pansa Yanamkham, told police they had been renting the elephant from an owner in Surin province. The name of the other suspect has yet to be released.
Noppon Saengsawang, an officer at Bang Phli Police Station in charge of the case, said the pair was taken to court over the weekend. He declined to answer other questions, saying he was in a meeting.
Herding elephants to beg for food or money – a common sight in some tourist spots – was made illegal in a 2014 law that bans animal cruelty. Violations are punishable by up to two years in jail.
The elephant was originally from a village in Chumphon Buri district of Surin, according to Chusak Ratchaburi, the chief of that district. Although some news reports identified the previous owner as Kiattisak Lakkasorn, headsman of Khunchaitong village, Chusak would not confirm the claim.
"We still cannot confirm the details. We're still checking the information," Chusak said. "We should have the information within this week."
Correction: An earlier version of this article misspelled Chumphon Buri district's name.