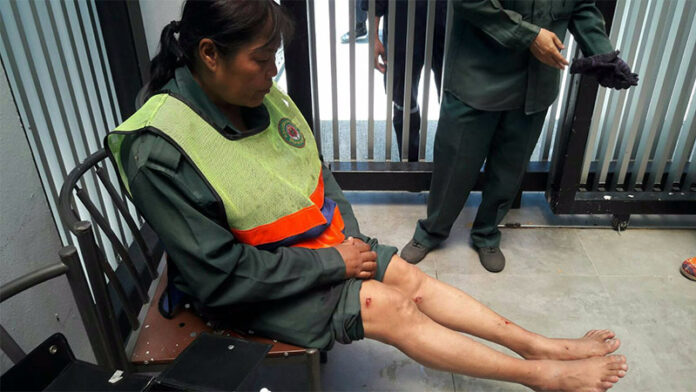 BANGKOK — Two people were injured Friday afternoon by a small bomb which exploded downtown in front of the headquarters of UNESCO.
The blast struck at about 1:30pm, according to one of two women street cleaners, who were slightly injured.
The explosion was likely a small "ping-pong bomb," according to Capt. Arthit Ketthong of Thonglor police. "It was most likely placed there by teens from the nearby Pathum Khongkha School fighting each other."
The cleaners, Namwan Sukit, 43, and Siriwan Sripeng, 51 were sweeping and trimming bushes on the street in front of the UNESCO building when they found a round object wrapped with black tape inside a plastic bag in the bushes. Namwan and Siriwan decided to open the object, at which point it exploded, slightly injuring her right leg. They have been taken to King Chulalongkorn Memorial Hospital for treatment of their injuries.
Arthit said police later found a bag of knives nearby, which he attributed "teens who hid them so that they could fight."
Bangkok has been hit by a series of bomb attacks in recent months, but Friday's explosion did not seem to be related, Arthit said.