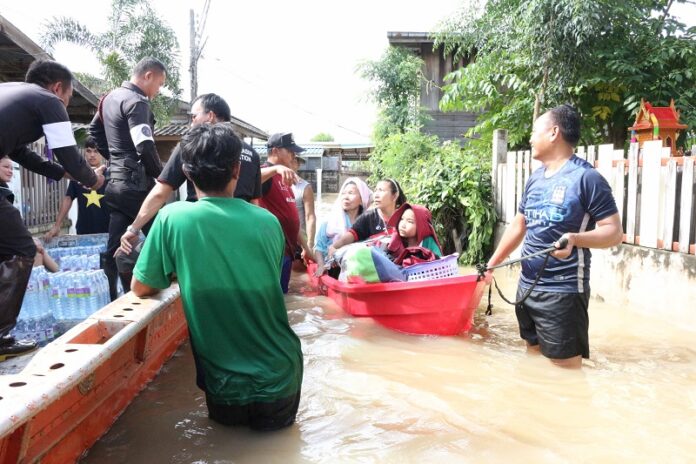 SAKON NAKHON — A regional airport remained closed Monday in Sakon Nakhon province as massive flooding continues to wreak havoc in 19 provinces from north to northeast, and political factions begin trading blame.
A result of tropical storm Sonca, the flooding, possibly the worst in over four decades, has so far affected more than 23,000 people, mainly in the Isaan region, according to disaster officials. While no official report of casualties has been released, media reports indicate three people have died and one is missing as a result.
Waters as deep as several meters in some places have wrought damage on a large scale to households, roads, hospitals, commercial areas and farm land. No estimated cost of the damage has been made yet.
Read: 'Sonca Storm' Floods Sink Northeastern Towns
Sakon Nakhon is one of the worst-hit provinces. Flash floods have struck its central city since Friday. Swaths of Chaiyaphum province have also been inundated since Saturday night.
Officials hope to reopen Sakon Nakhon Airport on Tuesday.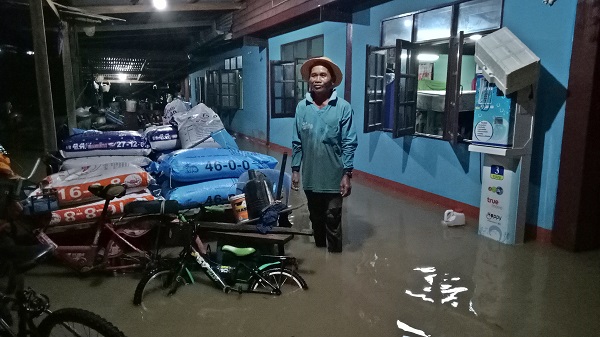 Disaster official Chatchai Phromlert said they were trying to drain the water into the Mekong River.
Other provinces that remain flooded in the northeast are Roi Et, Nakhon Ratchasima, Khon Kaen, Maha Sarakham, Kalasin, Buriram, Mukdahan, Ubon Ratchathani, Amnat Charoen, Chaiyaphum and Udon Thani.
In the central region, the provinces of Sukhothai, Phitsanulok, Phichit, Phetchabun and Ayutthaya are also affected. In the north, some parts of Uttaradit province are still underwater while Chumphon is the only one flooded in the south.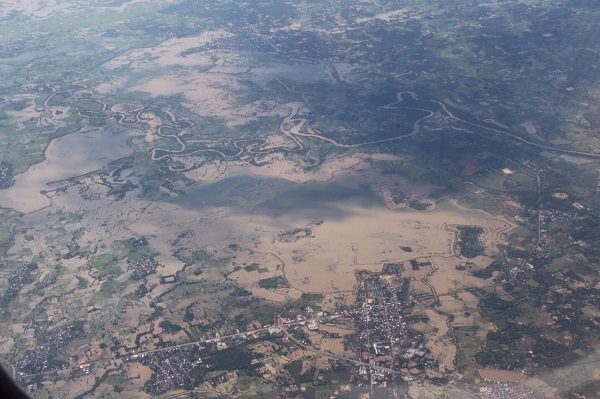 Blame Game
No evacuation orders were given beforehand, and the floodwaters rose with little or no notice. That invited criticism that the government poorly handled the crisis and mismanaged the response.
A government spokesman on Sunday extended a warning from the prime minister not to exploit the situation for political gain. He insisted only Mother Nature was to blame for the disaster, pointing out that neighboring nations were facing the same situation.
He said it was wrong to compare it to massive flooding in 2011, which the military regime blamed on mismanagement by the civilian government it ousted.
"When looking back at the 2011 floods, you will see they were caused by mismanagement," spokesman Lt. Gen. Sansern Kaewkamnerd said Sunday. "Even though the government then knew there would be a lot of rain, they did not rush to drain it, resulting in big damages to the country."
Responding to criticism that neither Prime Minister Prayuth Chan-ocha nor any members of his cabinet have waded into the field to oversee the situation and offer reassurances, a spokeswoman in the Prime Minister's Office said there was a good reason for that.
Col. Taksada Sangchan said prime minister did not want to burden any officials, so they could fully dedicate themselves to those affected.