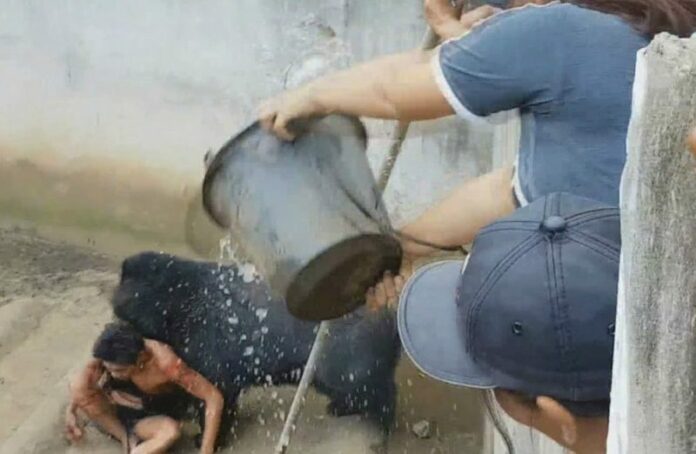 PHETCHABUN — A man was severely injured by a bear kept captive at a monastery on Wednesday.
Fon Promlad, 38, required nearly 1,000 stitches, after he was mauled by 6-year-old Asian Black Bear "Kaew" in Phetchabun province. Witnesses said he was teasing the animal before he was dragged down into a wild animal enclosure.
Fon was among other villagers who had arrived at the Luang Pu Lamai Monastery to adopt wild boars, which were kept in the same pit as the bear. Fon was allegedly teasing the bear with a stick as he waited for the animal caretakers to arrive when Keaw latched onto the man's wrist and dragged him down, according to Phetchabun police chief Col. Sritanon Ruenmoon.
Fon was mauled for at least several minutes as the bear dragged him around, eventually dragging him into its cage, a video clip of the incident shows. Onlookers poke the bear with a stick and empty a bucket of water over it.
Wandee Yookansawad told police that Kaew is not usually aggressive. Sritanon said Kaew has since been relocated to the Khao Kho Wildlife Captive Breeding Centre.
A caretaker on site said the bear had been given to the temple at a young age.