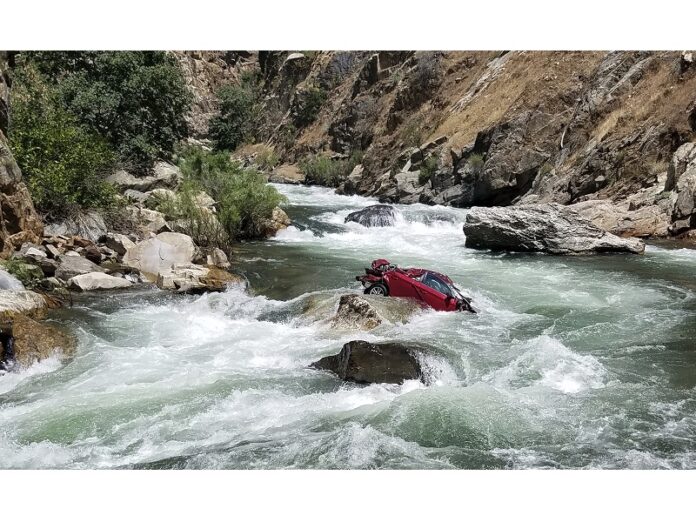 FRESNO, California — A recovery team using a helicopter and a winch on Friday dragged a car from the middle of a dangerous California river where it had been stranded for more than a month and freed two bodies inside believed to be a pair of exchange students from Thailand.
The car had crashed through a guardrail and plunged 500 feet (152 meters) over a cliff in the Sierra Nevada into the Kings River below, authorities said.
After weeks of planning and waiting for the river water to calm, a helicopter lowered members of the recovery team into the gorge. They used a hand winch to drag the car close to the bank and free the two bodies, authorities said.
The remains have been sent to the coroner's office for a positive identification, Fresno County Sheriff spokesman Tony Botti said. In a statement directed to the students' families, he added this has been a difficult time for them.
"Hopefully you may now move forward in the healing process," Botti said.
On July 26, the exchange students were driving a rented car on curvy Highway 180 along a steep canyon 75 miles (120 kilometers) east of Fresno when it crashed and became lodged on boulders in the middle of the river.
The slow pace to launch the recovery had prompted emotional pleas to authorities from relatives traveling in from Asia.
But only now has the river – with thundering rapids fed by massive amounts of snowmelt high in the Sierra Nevada – calmed enough to make conditions safe for the recovery team, officials said.
Investigators linked the car with the students who had planned to visit Kings Canyon National Park, famous for its sweeping mountain vistas and giant sequoia trees.
Thiwadee Saengsuriyarit, 24, and her male friend Pakapol Chairatnathrongporn, 28, had been enrolled at the University of South Florida. Authorities will await autopsies to confirm their identities.
Friday's recovery effort did not include a second car in the same stretch of the river believed to hold a missing couple from China. Publicity of the first stranded car and the trail of wreckage led investigators to the white car submerged nearby.
Authorities have linked it with married couple Yinan Wang, 31, and Jie Song 30, missing seen since early August. The river's flow has to drop even more before it's safe for the second recovery, officials said.
Story: Scott Smith
Related stories:
Deputies to Try Recovery of Thai Students From California River
Recovery of Thai Students May Lead to Missing Cali Couple 
Weather Foils Recovery of Missing Thai Students in California