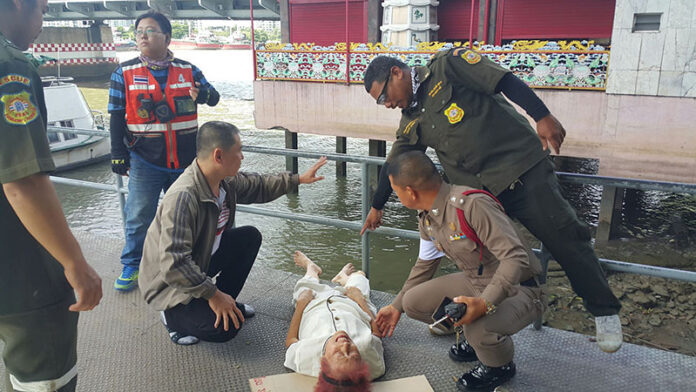 BANGKOK — A man is presumed dead after jumping from a Bangkok bridge while a woman who attempted to jump from another was saved in time, police said Tuesday.
An unidentified man who jumped from Saphan Taksin at 10am has still not been found. About a half hour later and a few kilometers away, passers-by prevented a woman from leaping from Saphan Krungthep.
"He's probably dead because no one found him yet. He didn't swim ashore anywhere either," said Capt. Jirasak Limcharoen of Pak Khlong San police.
Jirasak added that the man could not be identified since no one had reported him missing, nor did he leave any personal effects on the bridge.
Witnesses at a nearby pier, including a boat operator and ticket taker, heard the cry of said man while he was jumping and saw him disappear into the water before alerting the authorities.
Four kilometers to the south along the same river, an elderly woman tried to jump from Saphan Krungthep but was stopped in time by a good Samaritan. Police said she refused to identify herself but looked to be about 70.
The woman told police she was distressed due to family matters and had attempted suicide multiple times, according to Lt. Col. Pratya Krasaephal of Bukkhalo Police, who visited the scene.
"She didn't jump. She was just psychologically disturbed. Some citizens saw her about to jump but locked her in their arms," Pratya said. "Then she called in her family, and we found out that she was emotionally distressed, either from forgetting to take medication or from family problems."
Pratya said the woman would not stop crying and wouldn't tell police her name. He added that potential jumpers come to Saphan Krungthep "not so often, but many jump."
"Just a half hour ago before, someone else jumped from Saphan Sathorn," Pratya said, referring to Saphan Taksin. "At least with mine, we stopped her first."
While police do patrol Saphan Taksin in an effort to prevent jumpers, Jirasak said patrols were not thorough, especially at night.
"People who really want to jump will find a way," Jirasak said.