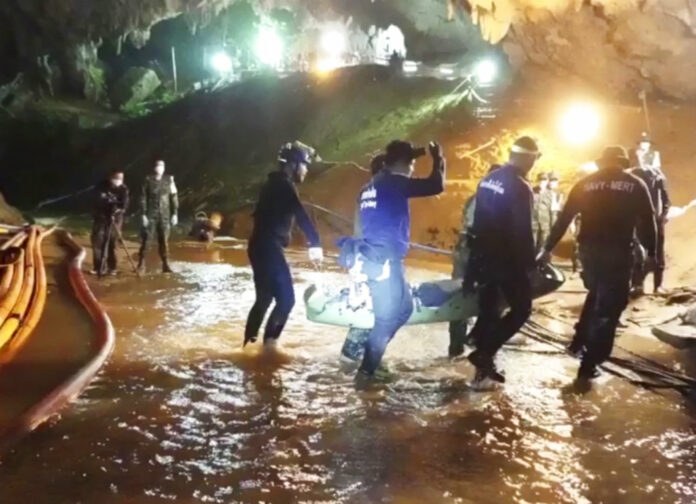 CANBERRA, Australia — Nine Australians involved in rescuing 12 boys and their soccer coach from a flooded cave in Chiang Rai were awarded bravery medals on Tuesday for putting their lives in danger during the treacherous ordeal.
Anesthetist Richard Harris and his dive buddy Craig Challen, a retired veterinarian, were awarded the Star of Courage, the second highest civilian bravery decoration in the Australian honors system after the Cross of Valor, Governor-General Peter Cosgrave said in a statement.
Six police and a navy diver received the lesser Bravery Medal.
Harris and Challen, both 53-year-old experience cave divers, had displayed conspicuous bravery in the operation that resulted in all 13 members of a soccer team being rescued, their citations said.
The team entered the cave on June 23, but flooding quickly blocked the exit and they had to retreat further inside the cave. Heavy rains raised water levels and thwarted the initial searches before two British divers on July 2 found the group huddled on a dry patch of ground, safe but hungry.
Harris and Challen arrived at the cave on July 6 and reached the team the next day.
"Dr. Harris conducted initial medical assessments and was able to provide information to the awaiting authorities regarding the safest extraction methods," the citations said.
"The rescue mission was hazardous, with poor or zero visibility, debris and constrictive passageways, variable air quality, and made more difficult with further rainfalls predicted," they added.
Harris sedated the boys and coach before they were taken out by divers over three days, concluding July 10.
Challen helped remove the team's masks and wetsuits as the boys and coach were stretchered through dry places then he prepared them for their next dive through flooded sections of the cave, his citation said.
The other seven Australian divers displayed considerable bravery throughout the cave system helping move the team to the entrance, their citations said.
"The threat of sudden flooding, movement of debris and deterioration of air quality posed continuous, potentially fatal hazards to all personnel in the cave system," their citations said.
The dangers were brought home by one death during the long rescue operation, former Thai navy SEAL Saman Kunan, who died while replenishing supplies inside the cave.
The 12 boys and coach recovered for a week in a hospital.
Challen told a reporter in his hometown of Perth that he had not expected the rescue to be such as success.
"It was absolutely life and death. We didn't expect to be getting 13 people out of there alive," Challen told News Corp.
Australian Prime Minister Malcolm Turnbull had backed the fast-tracking of official recognition for the Australians' bravery.
"It's one of the most heroic and inspiring episodes of our time," Turnbull said a day after the rescue was completed.