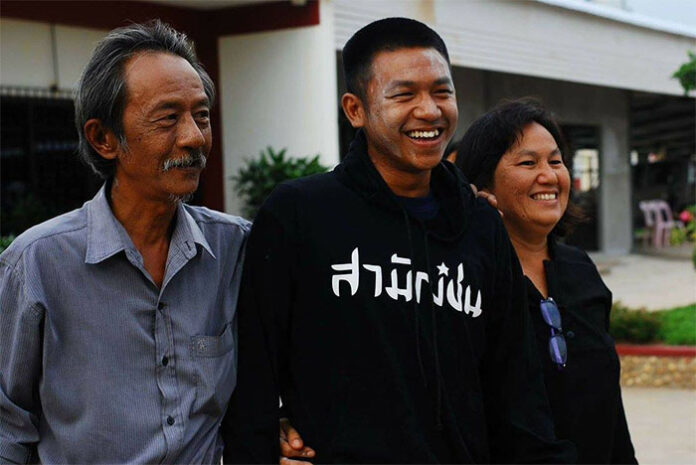 KHON KAEN — The trial of a recent law school graduate for sharing a biography deemed to defame King Rama X began Thursday in a provincial court in the northeastern city of Khon Kaen.
Held without bail since December, Jatupat "Pai" Boonpattararaksa was arrested for sharing a BBC Thai article on Facebook about the then-new king that contained biographical details that have become unmentionable in the domestic press.
Jatupat was indicted Feb. 10 on counts of lese majeste and violating the Computer Crime Act, to which he pleaded not guilty. He has remained behind bars and repeatedly denied release on bail. The courts proceedings are being conducted in secret, and Jatupat faces up to 15 years in prison on the count of lese majeste alone.
A fourth-year law student at Khon Kaen University at the time of his arrest, Jatupat risked losing out on the opportunity to graduate but was eventually allowed to sit for the necessary exams.
His fellow activists say Jatupat, who belongs to a community rights group called Dao Din, was singled out for his campaigning against the military regime, and they have staged many rallies calling for his freedom in Khon Kaen and Bangkok.
Four of his classmates calling for his release were charged with contempt of court in March.
Note: Some details have been omitted from this story due to fear of prosecution under the lese majeste law.
Related stories:
Activists Calling for Pai Dao Din's Freedom Charged With Contempt of Court
Cavity Searches and Pending Graduation Worry Jatupat Friends
Jatupat Singled Out to Scare Others, Supporters Say
Prosecutors to Indict 'Pai Dao Din' Over BBC Thai Article