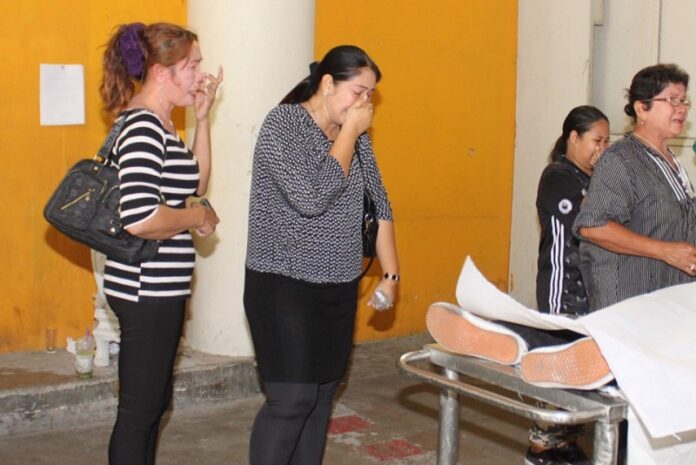 BANGKOK — Police said Thursday they were looking for up to three suspects who stabbed a student from a rival college to death in downtown Bangkok.
Chanon Chuankhunthod, 20, was killed after a fight broke out in front of the popular MBK Center shopping mall Tuesday. Another student was wounded. Chanon was the latest fatality in the long and bloody history of student gang warfare successive governments have tried – and failed – to stamp out.
Chanon, who enrolled at a polytechnic university known as Uthenthawai, was stabbed to death by a group of students from the nearby Pathumwan Institute of Technology, according to police.
An arrest warrant has been issued for third-year Pathumwan student Sarawuth Soprasit, and police will issue two more warrants soon, according to Phopthorn Chitman, local police chief.
"He has not turned himself in," Col. Phopthorn said. "Investigators are searching for him."
Fearing further rounds of bloodshed, the Pathumwan Institute of Technology canceled all of its classes. The university will reopen Monday, it said in a statement.
Another statement released by the university said its administrators were saddened by what happened and are willing to cooperate with the authorities.
Tuesday's fatal conflict began with scores of students from the two universities clashing on the skywalk connecting BTS National Stadium to the shopping mall. A video filmed by a bystander also shows groups of students rushing into the shopping mall, causing panic to nearby shoppers.
Pathumwan was celebrating its 85th anniversary that day. Bangkok police chief Sanit Mahatavorn said the fight broke out after seven or eight students from the college taunted a group of Uthenthawai students.
Police said Chanon was stabbed in the stomach. He died later at the hospital. Another student from Uthenthawai was also wounded in the fight.
Col. Phopthorn of the Pathumwan Police Station said administrators from both universities will meet Friday to discuss steps to put an end to the deadly gang enmity.
Previous discussions have failed to defuse the feud and cycle of revenge attacks between the two institutions, which have a long history. In 2014, a female student from Uthenthawai was shot dead while waiting for a bus close to the busy Siam Square. A month later, two Pathumwan students were killed in an apparent revenge shooting.
Violent rivalry between vocational college students is common in Thailand. Government after government has pledged to solve the problem, including the current military junta headed by Gen. Prayuth Chan-ocha, who has threatened to shut down universities or schools that fail to stop their students from fighting.
Last year, Bangkok police commissioner Sanit infamously suggested that students perform "love signs" when they encounter rivals to decrease tension.