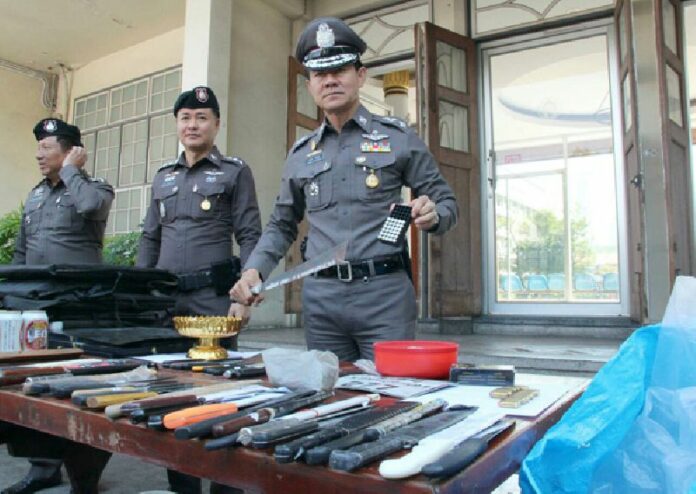 BANGKOK — Weapons were found Tuesday on the campuses of two rival vocational colleges in the heart of Bangkok one week before a date known to be commemorated with violence.
Metropolitan police today seized two pistols, 43 knives, 52 bullets and six bulletproof vests from a campus located near MBK Center belonging to Rajamangala University of Technology Tawan-Ok Uthenthawai, or simply Uthenthawai.
Police Maj. Gen. Songpol Wattanachai said he sought a search warrant from the Bangkok South Criminal Court in an attempt to prevent violence between students from Uthentawai and the Pathumwan Institute of Technology, two rivals with a bloody history situated around the corner from each other in the Siam area.
Authorities said students typically spar in prolonged brawls each year on Feb. 1, the anniversary of Uthentawai's founding, known as Blue Day. Only 12 knives were discovered in a search of Pathumwan's campus.
Uthentawai school official Suebpong Muangchu said some of the weapons had been found previously by teachers. He stressed the schools have made monitoring students a priority, and those found possessing illegal weapons are punished and sent to police.
In October 2014 both campuses were temporarily shut down after a mass brawl erupted at the Victory Monument after several students from both schools were killed in tit-for-tat revenge murders.
Related stories:
BKK Robbery Spree Not Connected to Technical Students: Police
Shots Fired At Downtown BKK's Technical College