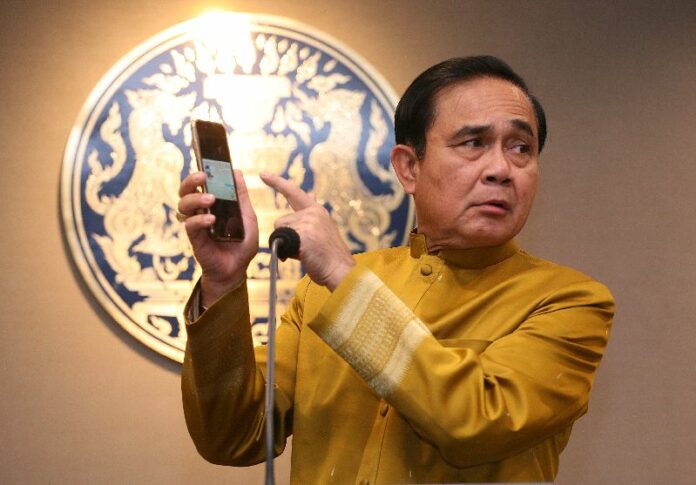 By Amy Sawitta Lefevre and Panarat Thepgumpanat
Reuters
BANGKOK — A general election will be held in 2017 even if the draft constitution does not pass a referendum this year, Gen. Prayuth Chan-ocha said today.
The government had previously made a new constitution a prerequisite for a general election, but junta leader Prayuth, who serves as prime minister, said Tuesday a vote would go ahead in mid-2017, even if it had to be held under a previous constitution.
"No matter whether the draft constitution passes the referendum or not, the government will hold the election in 2017 according to our roadmap," Prayuth told reporters.
The junta has curbed dissent and pushed back the timetable for elections to 2017, raising concern about the prospects of a country that was for years hailed as a shining example of a fast-developing Asian economy.
A junta-appointed committee has written a draft for the country's 20th constitution and is expected to unveil it on Friday.
A military appointed "reform council" rejected a previous draft in September. This time, the government will put the draft to a referendum, which is expected in July though no date has been fixed.
Democracy activists and some political parties say the charter will undermine the development of democracy and result in weak coalitions easily manipulated by the military.
Meechai Ruchupan, chairman of the Constitution Drafting Committee, said in a interview last week the constitution was aimed at resolving long-running problems such as abuse of power by lawmakers.
Contentious articles include provisions that empower a Constitutional Court to intervene in political conflict, a partially or wholly appointed Senate and provisions for an unelected prime minister.
Prayuth did not say why he wanted an election even if the draft is rejected, but his announcement is likely to ease concern that a return to democracy could be repeatedly derailed.
"I promise that in July 2017 there will definitely be an election," he said.
To reach us about this article or another matter, please contact us by e-mail at: [email protected].
Follow Khaosod English on
and
Twitter
for news, politics and more from Thailand.