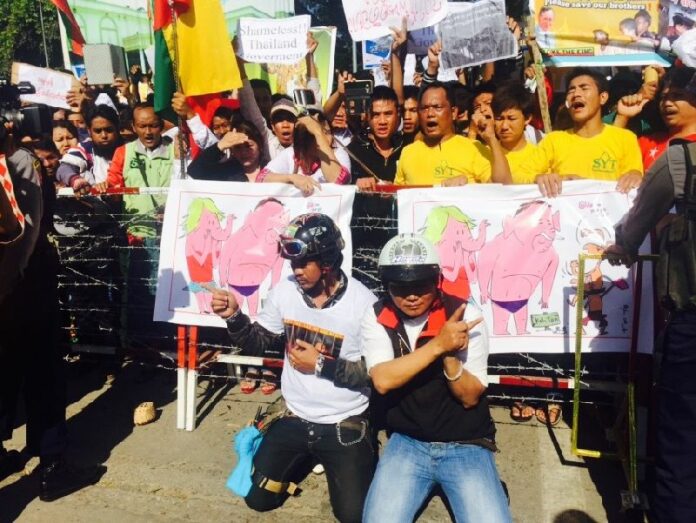 BANGKOK — Two Myanmar men sentenced to death last month for killing two British tourists in 2014 are being singled out for mistreatment in prison, their lawyer said today.
Zaw Lin and Wai Phyo are forced to wear shackles and remain in their cell 24 hours a day, according to lawyer Nakhon Chompuchat, who said he will file an appeal of their conviction some time in February after being granted an extension by the court.
"Their condition is good. They can watch TV, but they have some problems: They have to wear shackles 24 hours a day," Nakhon said Tuesday. "We will campaign against this. We won't only do it for them; this is about principles. The way they treated [Zaw Lin and Wai Phyo] is not in prison regulations. They claim it's a security measure."
Zaw Lin and Wai Phyo at the Oct. 3, 2014, police news conference on Koh Tao
The two Myanmar men are being held at a prison in Nakhon Si Thammarat province.
According to Nakhon, the prison wardens also withhold money transferred for their use by their supporters and families.
"We deposit money for them, but it still hasn't reached them," Nakhon said.
The two migrant workers were arrested two weeks after British tourists David Miller and Hannah Witheridge were found murdered on Koh Tao in the early morning of Sep. 15, 2014. Police accused Zaw Lin and Wai Phyo of raping Witheridge and killing both tourists. The two men denied the accusation.
After months of trial, the court ruled last month against Zaw Lin and Wai Phyo, finding them both guilty and sentencing them to die.
The Dec. 24 verdict sparked outrage on social media and protests in Myanmar, including rallies in front of the Thai Embassy in Yangon. There was broad criticism of the verdict online, with skeptics of the ruling believe the two suspects were "scapegoats" falsely implicated by Thai police.
Nakhon said his team is still working on their case to appeal the Dec. 24 verdict. The court had agreed to extend the time for submitting the appeal from Jan. 24 to Feb. 24, Nakhon said.
He also told Khaosod English the defense team may request to transfer them to Bangkok because "it would be more convenient" for communication.
Related stories:
Koh Tao Murders: Court Says DNA Trumps Other Flaws in Case
Koh Tao Murders: Protest at Thai – Myanmar Border [PHOTOS]
To reach us about this article or another matter, please contact us by e-mail at: [email protected].
Follow Khaosod English on
and
Twitter
for news, politics and more from Thailand.