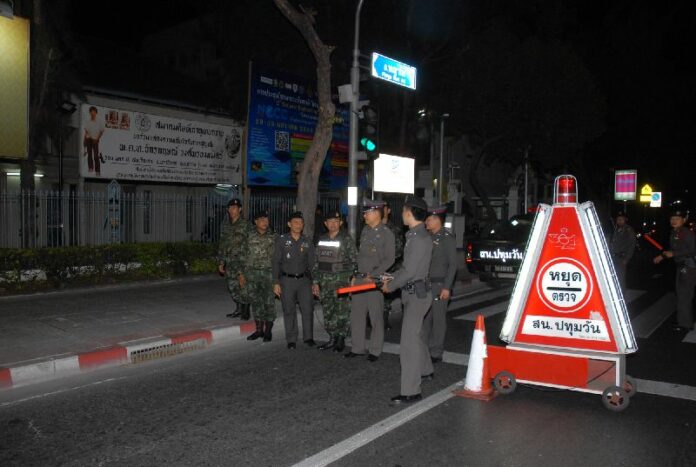 BANGKOK — Police are on the alert after shots were fired at a technical college in Bangkok's financial district, which police suspect to be an instance of gang warfare.
According to police, "numerous" shots were fired at Rajamangala University of Technology's Uthen Thawai Campus, known to many Thais simply as Uthen Thawai, on Phayathai Road at around 11 pm last night.
Security guards at the university told police no one was injured in the shooting. Police say they have not determined the direction of gunshots or identified the perpetrators.
However, police officers noted that violence between rival technical colleges in Thailand often spikes in the days leading up to the schools' anniversaries, and the anniversary of Uthen Thaiwai's founding, 1 February, is approaching.
"We believe it is an act of harassment," Pol.Col. Jarut Saruttayaporn, superintendent at Pathum Thani Police Station, told reporters. "On the anniversary of the college's foundation, security forces will be stationed in the area, and we will increase patrols to prevent any incidents."
As a precaution, soldiers and police officers are manning checkpoints on Phayathai Road from today onward, Pol.Col. Jarut said.
Uthen Thawai is known to have a longstanding feud with Pathumwan Institute of Technology, which is located nearby. Their gang fights sometimes spill into the nearby shopping district, such as the massive brawl involving more than 50 students in front of MBK shopping mall in February 2009.
In August 2014, a student was killed after a gunman sprayed bullets into a group of Uthen Thawai students who were waiting for a bus at a bus stop near Siam Square. A month later, two students from Pathumwan Institute of Technology were shot dead in what police believe to be a retaliation for the previous shooting.