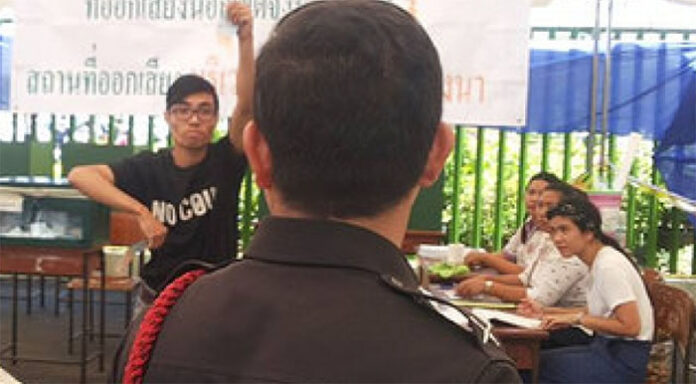 BANGKOK — Just over a year ago, Piyarat Chongthep stared down a security officer as he ripped his ballot in half while shouting "Down with Dictatorship, Long Live Democracy" at a Bangkok polling station.
Today, he's looking at up to 10 years in prison when a court judges his show of defiance to the junta-sponsored constitutional referendum.
A week before the verdict will be read on Tuesday, the 26-year-old political activist seemed nonchalant and professed to not even knowing what maximum prison term he faced stemming if convicted of the four charges filed against him.
For him, it was a purposeful act of peaceful protest.
"I engaged in civil disobedience," recalled the soft-spoken Piyarat. "Many don't get it."
Piyarat was immediately taken into custody Aug. 7, 2016, and later charged with obstructing the referendum, causing a disturbance at a polling station and destruction of state property for tearing the 25 satang ballot.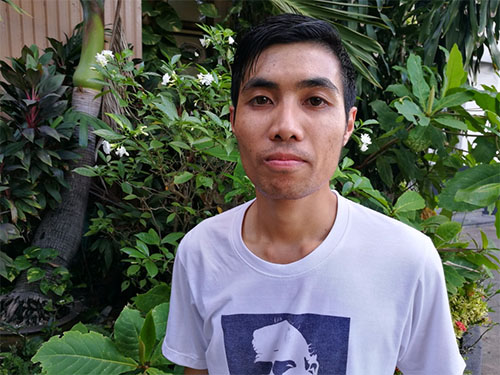 He said his aim was to draw attention to suppression of the public's right to oppose the junta-sponsored draft charter in an unjust process that give it the veneer of democratic legitimacy.
Four months before the referendum, a special referendum law was enacted by the junta-appointed legislature that criminalized campaigning against it. It technically criminalized all forms of campaigning, but the airwaves were filled with pro-charter messages from the regime while only opponents were arrested.
"I am not worried what the verdict will be at all, because I have achieved what I planned," he said, referring to the ruling to be delivered at 9am on Tuesday by the Phrakanong District Court in Bangkok. "There's no regret. I'm not disheartened or worried. I did my best."
A member of his defense team said Piyarat faces 10 years in prison under Article 60 of the Referendum Act for creating a disturbance. They are preparing a bail application for Tuesday in case he is convicted and seeks to appeal.
Piyarat readily admits however that what he did was perceived, even by those who oppose military rule, as an exercise in futility. One critic even called him a "madman" on social media. He said his spirits were lifted by a jailhouse phone call from a prominent dissident exile praising his idealism last year. It convinced him he'd done the right thing, Piyarat said. That doesn't mean he ignore the voices that doubt him.
"I try to understand those who think it wasn't worth it. To me, there's something bigger than whether the junta wins or loses, as it was a learning process. I used myself as a lesson. If there's no one who is willing to count one, there won't be a lesson for society."
He learned his own life-changing lesson. After learning the referendum passed by a sizeable margin, he felt the law had been so twisted by the junta that Thailand's justice system no longer made sense. As a result, when he was released from the police station, he quit his evening law classes.
Thailand may have a new junta-sponsored constitution since April this year, but not for Piyarat. In a way, his act of civil disobedience continues. To Piyarat, Thailand has no constitution today as what most believed to be the charter today wasn't exactly the same as what passed the referendum as it underwent changes after the public signed off on it.
"The referendum was meaningless," he said.
Related stories:
Charter Critics Still Face Prosecution, One Year Later
#ThaiReferendum Live Blog