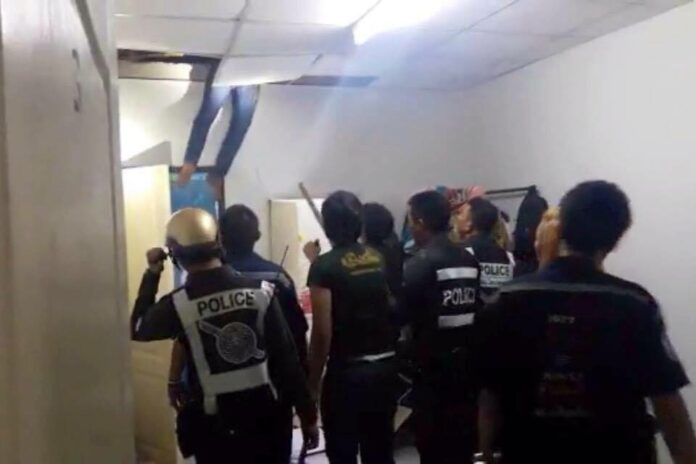 BANGKOK — A man accused of attempted rape sought to evade capture by climbing up above the drop ceiling of an apartment in east Bangkok early Friday morning to hide from police.
Two Vietnamese women, Leung Thi Wan and Au Thi Yu (transcribed from Thai) told police that Seksan Parinyaseri knocked on the door of their shared room in Soi Nuanchan 21 at 3am, saying he wanted to talk. When Lung Thi Wan happened to step outside to take a phone call, Seksan stepped inside, locked the door from within and attempted to assault Au Thi Yu.
Leung Thi Wan called for help from their neighbors, prompting Seksan to climb up into the ceiling and attempt to conceal himself above the acoustic tiling.
When police arrived and told him to come down, the 21-year-old man refused. At that point officers got to work poking and pulling the tiles one by one until Seksan fell from his perch.
"We have not yet charged him, as he is still drunk," said Capt. Witthaya Kongthong of Khokkram Police Station late Friday Morning.
Witthaya said Seksan will be charged for breaking into private residence at night as well as attempted rape.