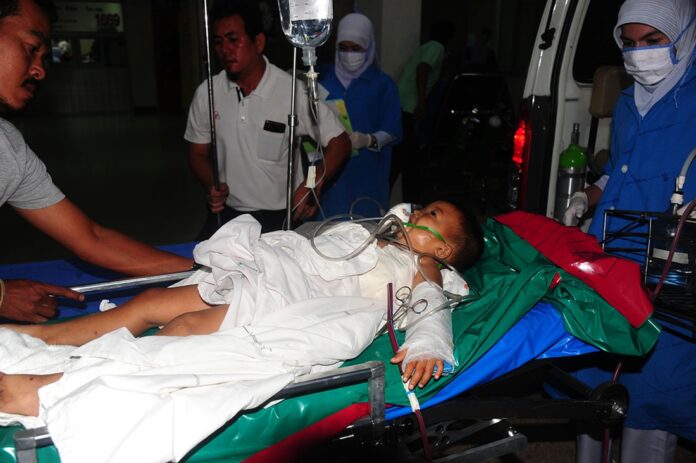 NARATHIWAT — Police on Friday blamed the shooting of a man and his 3-year-old son at their home in Narathiwat on separatist insurgents.
Prapan Laipraditporn, 32, and Peerapat Laipraditporn were resting on the front porch of their home when gunmen on motorcycles opened fire on them with M16 rifles, according to Patcharapon na Nakhon, chief of Takbai police. The two were later sent to hospital where they're expected to recover.
"We believe the incident is related to unrest in the region," Col. Patcharapon said, referring to the secessionist campaign Muslim militants have waged in Natathiwat and its neighboring provinces for over a decade.
Patcharapon believes the militants targeted Prapan and his son because they are Buddhist civilians and therefore "soft targets" to attack.
A bullet grazed Prapan across his back while his toddler son was shot in the stomach, the colonel said, though he said both were making good recovery.
At least 6,500 people have been killed since the separatist violence broke out in early 2004, according to a 2015 estimate by Deep South Watch. Most of those killed were civilians.
Despite calls from authorities and civil rights groups to respect humanitarian rules of war, suspected separatist attacks on civilians and other soft targets have spiked in recent months, including use of a weaponized ambulance to bomb a hotel, the bombing of a night market and a series of bomb and arson attacks across seven provinces in August.
Related stories:
3 Policemen Killed, 1 Injured in Yala Car Bomb Explosion
Regime's Southern Overtures Met With 19 Attacks, 3 Deaths