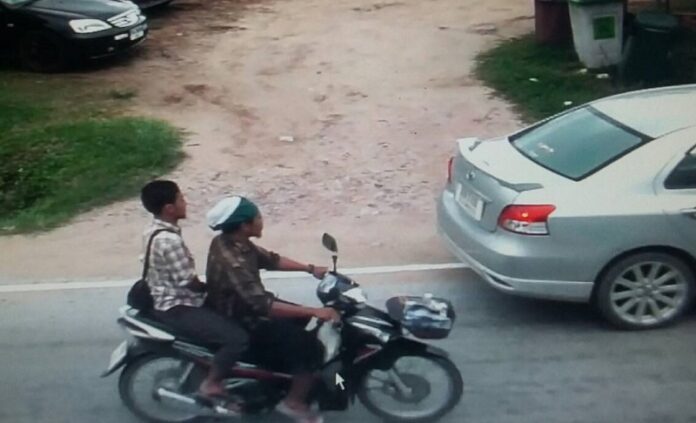 PATTANI — A teacher was shot dead Friday in the southern border province Pattani, two days after a government peace delegation pleaded for a year-long cessation of violence.
A security camera recorded the moment Friday morning when two men on a motorcycle opened fire on 49-year-old Sunisa Boonyen and a colleague in front of the continuation school where they taught. The men escaped; Sunisa died.
Her colleague Chataporn Sriseng remains in critical condition. The two women were said to be on their way to dye clothing black for the national mourning period.
A leaflet was left behind by the gunmen, according to police Lt. Col Noppasit Temongla, though he denied knowing what it said.
"It was collected by forensic police," he said.
According to reporters at the scene it said, "For you bastards who kill Melayu," in reference to the ancient kingdom later annexed by Bangkok over 100 years ago.
Noppasit, the officer in charge of the case, dismissed reports police had already identified the gunmen and the motorcycle used in the crime.
The shooting comes four days after a bomb exploded in a Pattani city night market, killing a 60-year-old woman and injuring 21 people.
The head of the military government's delegation tasked with negotiating peace with separatist umbrella group Mara Patani said he had asked Wednesday that they to put all incidents on hold for a year as the nation was in mourning.
Gen. Aksara Kerdphol said the group offered condolences for King Bhumibol and insisted peace talks were making progress with discussions now focused on establishment of a safe zone.
Thai teachers have been targeted for assassination by separatists over the years, in part because they are perceived as agents of Bangkok rule. Nearly 200 have been killed since the conflict first surged in 2004, according to Human Rights Watch. Three were killed in 2015, according to the Deep South Watch.
Related stories: