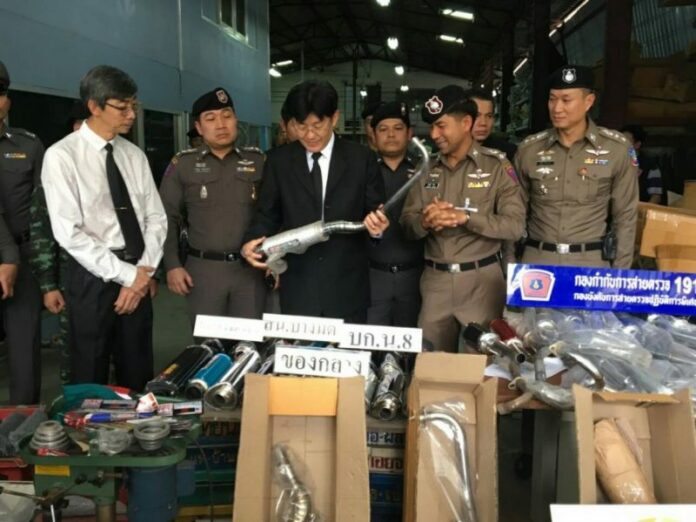 BANGKOK — An amulet guru was charged Friday with producing illegal exhaust pipes at a factory in western Bangkok.
Police, regulatory officials and soldiers raided the factory Thursday in the capital's Chom Thong district after a month-long investigation into dek van (teen biker gangs) operating in the area.
Inside the factory on Soi Chan Phring, police seized 3,000 illegally produced exhaust pipes and production equipment and arrested 45-year-old Pawarit "Net Toongsong" Somtsong. Pawarit, 45, is a well-known amulet trader from Nakhon Si Thammarat province.
"We used the power of Article 44 to raid the factory, because it's an issue related to the Thai Industrial Standards Institute. Using the article also allowed soldiers to help us in the raid," Police Col. Chakrapetch Petchploynil said Friday.
The raid was the culmination into an order from top junta and police officials for officers to investigate teenage biker gangs, which are a widespread nuisance in the capital, Chakrapetch said. Authorities over the years have attempted to rein in the youth culture, which they associate with delinquency and criminality.
"We've been investigating dek van and skoi girls for months now, and we decided to cut them off at the source. What's their source for getting their bikes modified? That's how we traced the illegal exhaust pipes," Chakrapetch said.
Police found no legal operating documents for the 800sqm factory. The factory could produce 70 to 80 exhaust pipes a day for a factory cost of 20 baht to 50 baht each.
"The pipes are illegal because they didn't get permission from the Thai Industrial Standards Institute to produce them, and they aren't up to standards," Chakrapetch said.
Preliminary investigation revealed that Pawarit, who rents out amulets at Pantip Plaza, got into the illegal exhaust pipe game recently. Amulet gurus, found at lower-end malls and markets across Thailand, rent out "magical" amulets for the faithful for boosts in karma, luck, and so on.
Chakrapetch said Pawarit will be charged with producing nonstandard exhaust pipes and running an unauthorized factory. The maximum punishment is a fine of 10,000 baht.