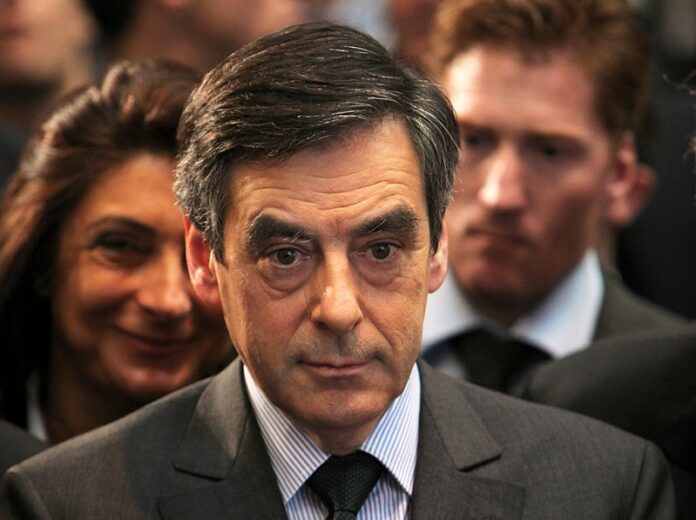 PARIS — Conservative candidate Francois Fillon, once the front-runner in France's presidential race, is facing a political maelstrom after first his wife, then his children became targets in an embezzlement probe into paid – but allegedly fake – political jobs.
The decision Thursday by the national prosecutor's office to expand its investigation into Penelope Fillon's work as a parliamentary aide to her husband to include a son and a daughter added a whole new layer of worry for both Fillon and his party, which is watching its chances of regaining power dwindle.
French national financial prosecutors have been investigating Penelope Fillon's work, seeking to determine whether there are grounds to suspect embezzlement and misappropriation of public funds. The Canard Enchaine weekly reported Wednesday that she made 830,000 euros (USD $900,000) over 15 years.
A person close to the investigation told The Associated Press on Thursday that prosecutors have extended the probe to also cover the couple's daughter, Marie, and son, Charles. The person spoke to the AP on condition of anonymity, because they were barred from discussing the investigation publicly.
Allegations that Fillon's family used his political connections for personal enrichment have been particularly damaging for the former prime minister's image as an upstanding Catholic family man and country gentleman untainted by the long history of sleaze in French politics. The contrast stings because Fillon has promised to slash public sector jobs and make the French work harder and longer.
The hit to Fillon's prospects of winning France's two-round presidential election in April and May has thrown wide open the race that had been expected to be between him and far-right National Front leader Marine Le Pen. With Fillon weakened and the unpopular Socialist President Francois Hollande having abandoned hopes of running for a second five-year term, Le Pen and independent maverick Emmanuel Macron are making hay ahead of the April 23 first-round vote.
A possible runoff vote between Le Pen and Macros on May 7 would augur a total upset of France's political landscape, for it would not include the traditional right, represented by Fillon, nor the Socialist left, which fell into disarray under Hollande.
An angry Fillon addressed a rally Thursday night in Charleville-Mezieres, in northeast France, calling the allegations attacks on him and the right.
"I'm not a dupe. It's not justice that they're after – it's to break me," he said, insisting "there is nothing illegal."
His eyes appeared teary as he called on the crowd to support him.
"My friends, I ask you to help me resist," he said.
Earlier in the day, Fillon was heckled by a young man who yelled "Fillon, thief! Resign!" during a stop at a daycare center.
The Canard Enchaine reported that Fillon hired his children as parliamentary aides when he was a French senator from 2005-2007, and they earned 84,000 euros (USD $91,000) in total.
Fillon has confirmed he paid two of his children, "who were lawyers," for "specific assignments" when he was a senator. However, Marie and Charles still were in law school when they worked for their father, French media say. According to Le Canard Enchaine, they drew paychecks not for assignments but for two full-time jobs.
Marie and Charles Fillon did not respond to emails or telephone messages from the AP.
French politicians are allowed to hire family members as aides as long as they actually do the jobs for which they are paid. Fillon also insists that Penelope's work for him was genuine.
But France Television's "Special Envoy" show on Thursday night dug up an interview of Penelope Fillon in 2007, just after her husband became prime minister, in which said she had accompanied him during his electoral campaign, slipped political leaflets under doors – but added "I've never been actually his assistant … I don't deal with his communications."
That appears to contradict the couple's defense that she was legitimately employed.
Her lawyer, Pierre Cornut-Gentille, said Penelope's words were being taken out of context. He insisted she was a woman of great discretion, always concerned "not to appear as if she exercised a public political role."
Fillon and his wife were separately questioned by investigators for five hours Monday and her lawyer said Penelope Fillon gave investigators evidence that her work for her husband was genuine.
Senior conservatives rallied Thursday around Fillon, denouncing an "attempt to kill" his candidacy.
"They're throwing to the wolves a man, his wife, his children, his colleagues, without waiting for their arguments or listening to their defense," 17 conservatives, including former Prime Minister Jean-Pierre Raffarin, said in a tribune in the Le Figaro newspaper.
Story: John Leicester, Elaine Ganley