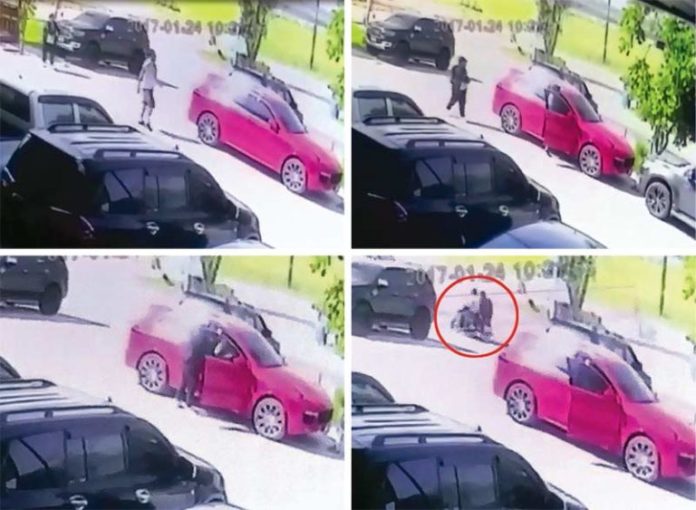 TRAT — Thai authorities on Saturday were still waiting for Cambodia to hand over the suspect in the murder of a British man last month at a Thai sports club.
Toby James Nelham, a 44-year-old Briton wanted in connection with a man gunned down last month in Pattaya, has yet to be extradited to Thai officials two days after they learned he had been arrested in Cambodia and would be handed over at a border crossing.
"We've received no news about the extradition from Cambodia's side yet," Col. Damrong Ieampairot, superintendent of Klong Yai police said Saturday afternoon. "There's nothing sent to  us yet."
Read: Police ID Briton, South African as Killers of 'Web Designer'
Nelham is suspected of ordering the Jan. 24 murder of Tony Kenway, another British national, who was shot to death as he sat in his sports car in Pattaya. Police sources have said Kenway was involved in crime and had business with Nelham that turned sour.
After receiving intel that Nelham had been arrested in Cambodia's Koh Kong province, Thai military and police on Thursday went to a border crossing to take custody of him.
Maj. Jirasak Aebfaeng of Nong Prue police said Saturday that Cambodian authorities had yet to deliver Nelham.
Nelham was the third suspect to emerge in the death of the 39-year-old Briton.
On Jan. 24, Kenway was sitting in his Porsche at the Sanit Sport Club when a heavyset man wearing a black jacket and cap walked up to his car, shot him and rode away on a motorbike with an accomplice.
Two days later a court approved warrants for Miles Dicken Turner, another Briton, and Abel Caleira Bonito of South Africa. Police believe Bonito shot Kenway and Turner helped him escape by motorcycle. They remain on the run but were also suspected of fleeing to Cambodia.
Related stories:
Police ID Briton, South African as Killers of 'Web Designer'