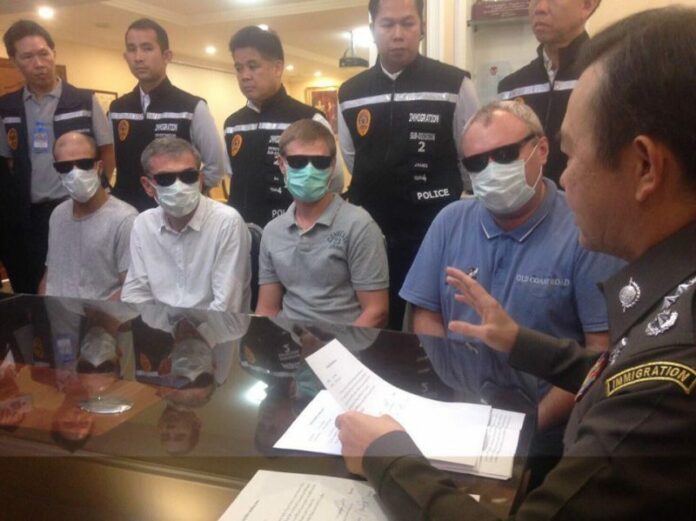 PATTAYA — Police in Pattaya Monday took credit Monday for taking a major Russian mafia figure and 13 other foreign criminals, including an AIDS-infected heroin smuggler, off the streets during the past month.
The biggest bust, police said, was Aleksandr Danilov, 43, who is accused of being a top figure in Russian organized crime in Pattaya. Danilov is wanted in Russia and fled prosecution for drug trafficking in Phuket in 2012. He was arrested March 11 in Pattaya.
"Pattaya is in chaos because of his arrest," police Lt. Col. Raleuk Intawatsami said.
Danilov was arrested along with 13 other suspects police said included his underlings and a repeat drug trafficking offender. At least three were identified as fugitives by the Russian Embassy, which sought their arrest.
All 14 suspects were wanted in Thailand and abroad for a variety of criminal activities associated with organized crime, from drug trafficking to extortion and racketeering. Raleuk said the suspects – six Russians, four Uzbeks, a Ukrainian, a Belarussian, a Moroccan and an Iranian – were all connected.
"They're all Facebook friends," he said.
Police said Danilov runs a criminal enterprise operating Pattaya tourism venues such as restaurants, strip clubs and car rental businesses. They said he also brings drugs into Thailand, along with Eastern European women for prostitution.
Pattaya is a seaside resort town known for its high concentration of commercial sex workers and sex tourists. It has a high population of Russians and a number of international criminal syndicates – Chinese Triads, Japanese Yakuza, Filipino mafia and more – are believed to operate there.
Raleuk said that while Pattaya's organized crime does make for the occasional stabbing, the Russians are not the widespread menace some imagine – just very visible.
"It's just that they're loud and raucous, but not to the level of scaring people," Raleuk said. "I get it, you know. I talked to some Russians myself. It's part of their culture. You need to be a big man with muscles, or else they'd get bullied in their country."
Police also said  the arrest of 37-year-old suspected drug trafficker Sergei Mareev was another win for Thai, Russian and international police. Police Lt. Gen. Nattatorn Phrosoontorn said Mareev lived a "playboy life" having sex with scores of Thai women despite being infected with HIV. Police set up a sting for Mareev using a female agent, who contacted him through Whatsapp to arrange a date.
Mareev took a bus from Bangkok's Ekkamai Bus Station to Pattaya on Feb. 19, where he was greeted by police and arrested. Officers said a search of his Pattaya property turned up a large amount of drugs.
He's already been deported home to Russia, Lt. Col. Raleuk said, because he was wanted there and his passport had already been canceled.
Another of the Russian suspects, 45-year-old Mikhail Kriventcov, was wanted under international law for trafficking heroin. Nattatorn said the Russian embassy notified them Kriventcov had escaped into the country but he was later captured on March 2 in Loei province where he was about to cross into Laos.
Apart from Anton Filippov, who was wanted in Russia for disobeying a court order and fleeing from justice, the other suspects were "wanted for various crimes such as working illegally, overstaying their visas and acting as a menace to society," according to Nattatorn.