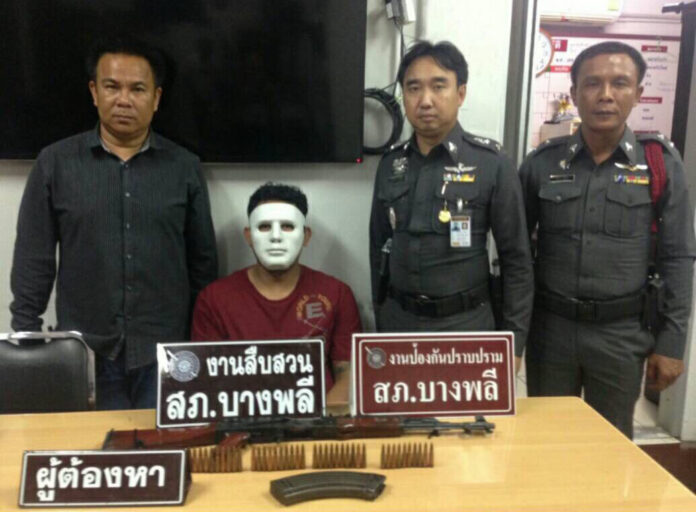 SAMUT PRAKAN — Two men were arrested and charged Wednesday evening for illegally possessing a number of automatic weapons, police said Thursday.
Sakda Songsiri, 39, caught shooting guns into the sky, was arrested by Bang Phli police and charged with unlawful gun possession, possession of unregistrable firearms and carrying a gun in a public area. Sakda revealed he sold an AK-47 to his neighbor, Sukit Roimalee, 33, who was also charged with possession of an unregistrable gun.
"The first guy was shooting his guns into the sky for fun, and someone called to report him," Lt. Col. Jatuphop Ramanat said Thursday. "Then we searched his body, car and house and found a bunch of war weapons."
Police found an M16 rifle, an AK-47, a revolver, a handgun and an assorted number of bullets in Sakda's possession. After interrogation, Sakda said he sold an AK-47 assault rifle to his neighbor, Sukit.
The total haul possessed by the men was three automatic guns, a military shotgun, two handguns and 207 bullets.
Although under Thai law, firearm ownership is permitted for self-defense or hunting, but ownership of automatic weapons is prohibited.