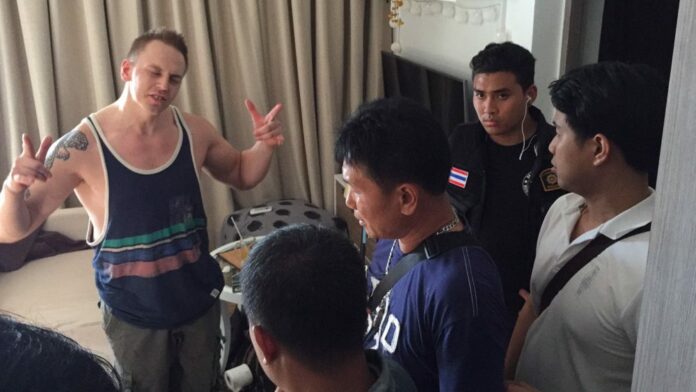 Update: On June 14, Capt. Puttipong Cheunchom of Pattaya City police said Karhapaa was not charged with murder, and his trial for alleged fatal recklessness is ongoing. He also said Karhapaa and Thanawat were married at the time of her death.
PATTAYA — A Swedish man was charged with fatal recklessness Thursday after his girlfriend fell eight stories from a condominium balcony.
At about 6pm on Tuesday, Thanawat Jittiwut, 24, fell from the balcony of a condo on Phra Tamnak Road in Chonburi province. She died soon after. Her boyfriend, Swedish national Marcus Sten Tapio Karhapaa, 34, was found sobbing and kneeling next to her body.
"They were fighting about him having another woman," Police Col. Chatchapol Pattarasiriporn said Thursday. "They used to love each other very much, since they had been together four years. There's no solid evidence he pushed her."
Karhapaa is currently being held at the Pattaya Police Station and will be charged with fatal recklessness, which has a maximum sentence of 10 years.
Thanawat was found in the parking lot holding a blanket, where she was still alive but unconscious. She was sent to Pattaya City Hospital, where she was pronounced dead on arrival. Police found signs of struggle in the eighth floor room she fell from.
The condo manager, Jamreang Glamngeun, said he caught sight of the blanket falling past his office window. He ran out and see Thanawat and quickly called the authorities.
According to Karhapaa, he had been in a relationship and Thanawat, who was mute, for four years. He said during their fight Tuesday, Tanawat had walked onto the balcony and threatened to jump, so he tried to pull her back inside. A shoving match ensued, and Thanawat slipped on water and fell, Karhapaa said.