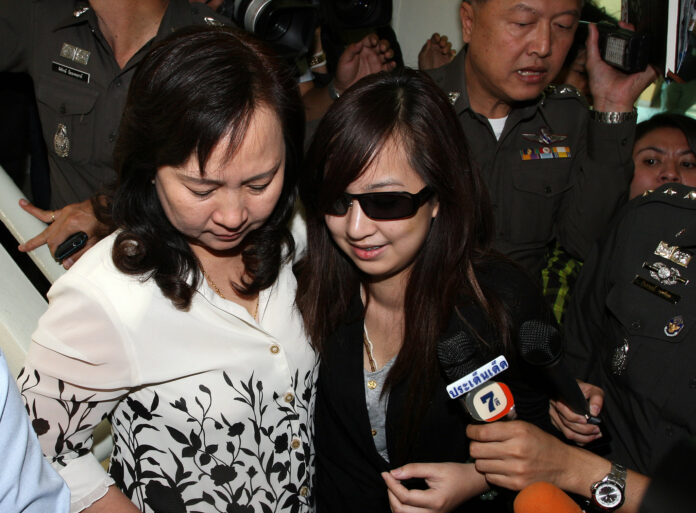 BANGKOK — A young woman who became a symbol of injustice after killing nine people in a car crash seven years ago had her court-ordered compensation reduced by nearly 10 million baht Wednesday.
Orachorn "Praewa" Thephasadin Na Ayudhya was ordered by the Appeals Court to reduce the compensation paid to nine crash victims' families by 19.8 million baht, down from the 30 million baht originally ordered by the Civil Court in 2015.
Read: 'Praewa' Ordered to Pay 30 Million Baht to Van Crash Victims
Five years after Praewa was first convicted, the court also deflected some of the blame for the accident by ruling that the van driver she hit and killed, Naruemon Pitatanang, was also to blame for speeding, though it was not the cause of the accident.
The deadly accident took place in 2010, when Praewa – who was 17 and had no license to drive – crashed into a Thammasat University van on the Don Mueang Tollway. The impact sent the van hurtling from the elevated highway and killed nine people, including university students, academics and the van's driver.
Praewa walked away unhurt, and images of her resting against the guardrail chatting on her phone became yet another symbol of Thailand's two-tier justice system.
The families originally had asked for her to pay three times what the court ordered. Last August, Praewa finally completed 138 hours of court-ordered community service – four years after it was ordered.
Related stories:
'Praewa' Ordered to Pay 30 Million Baht to Van Crash Victims
Praewa Completes Community Service, 4 Years After Court Orders It
She Avoided Jail Time For Causing 9 Deaths, Now 'Praewa' Has 9 Weeks to Complete Community Service