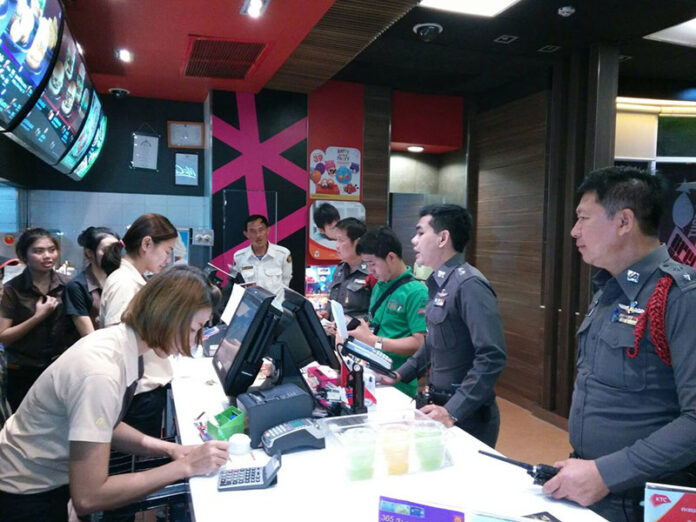 BANGKOK — A man was arrested for robbing a McDonald's using a box cutter while under the influence of anti-anxiety drugs Thursday night.
Pornthep Janthawat, 29, barged into the fast-food restaurant at the Town in Town mall in northeastern Bangkok just before 7pm on Thursday and demanded the cashier hand over all their money at knifepoint before running off with the cash. Pornthep was later apprehended when he asked a police officer for directions.
"It's real, it really happened!" police Lt. Col. Chawalit Nguenchalard said Friday morning. "We can't understand anything he says, because he's still throwing tantrums in the holding cell at the police station. Although the usual jail time for robbery is 10 years, we still have to wait for him to calm down so we can get the details."
According to Duangruethai Kleawkarnrai, 25, the manager of the McDonald's branch, Pornthep walked straight to the area behind the counter with his box cutter and demanded the first cashier give him all of the money. He wasn't satisfied with the amount offered.
"Don't you have more? You've gotta have more!" he reportedly said before forcing employees to empty two other registers, giving him a total of 6,975 baht.
Before bolting off on his Yamaha motorcycle, he returned 1,000 baht to the employees.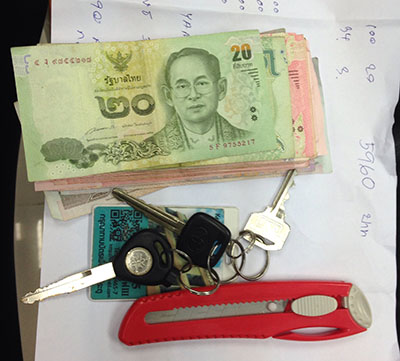 Duangruethai called the police around 7pm, and Lt. Capt. Patchapol Ratanamunee of Wang Thonglang police started to look for what Duangruethai described as a man in a white shirt and jeans.
Meanwhile, Pornthep was traveling down Lat Phrao Road when he swerved into a Big C Supercenter and asked police Lance Cpl. Nattapol Chalermchue, who was on duty in front of the mall, directions to Soi Ramkamhaeng 65. Noticing Pornthep's intoxicated and aggressive behavior, Nattapol decided to take him to the Chokchai Police Station, where police realized he was wanted for robbing the McDonald's with the utility knife.
Pornthep reportedly confessed to robbing the store and said that he had taken alprazolam, also known by the brand name Xanax, before embarking on the robbery. In a search of his room at Soi Ramkamhaeng 65, police found Pornthep's medication. He has been charged with armed robbery at night aided by an escape vehicle.