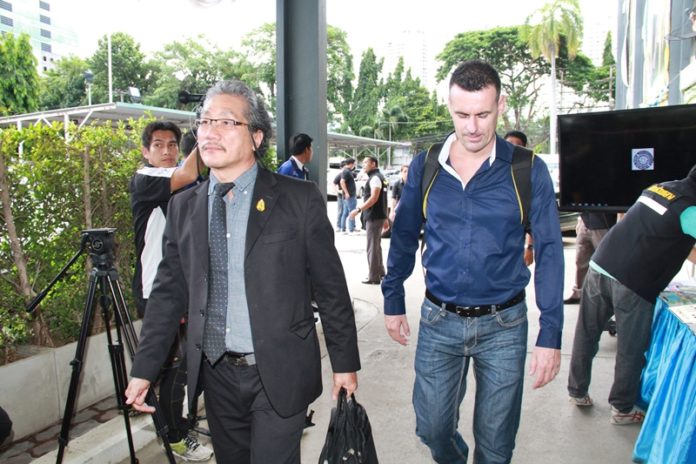 BANGKOK — Pattaya police said Friday they are waiting for a psychological evaluation of two young children at the center of a custody dispute before deciding whether to charge a British man with sexually abusing them.
After a medical examination found no evidence of the assault alleged by their father, police said they would be assessed by doctors at Chulalongkorn Hospital, where they have been kept in protective custody since refusing to be returned to the care of their mother one week ago.
Two days after saying police were on the verge of charging David Simpson with sexually abusing a minor, Capt. Nakornrat Nonsilad of Pattaya police said Friday that a decision had not yet been made. Simpson denies the accusation.
"We have yet to conclude the investigation," he said Friday. "Although I questioned a doctor at Police General Hospital where the medical examination was underway, the doctor assured me that if a child is raped, traces would definitely not just disappear."
The children have told police they were abused.
Late Friday afternoon, Cedric Servan, the father of the 8-year-old girl and 5-year-old boy said a court ordered them returned to his custody for six months after psychological assessment was completed. He was told the children would have to remain at the hospital until a court hearing could be arranged Monday.
The case, which involves a nasty custody dispute and the worst kind of accusations, spilled into public when a reporter filmed children fiercely resisting being returned to their mother, Fiona Wang, after a court had revoked Servan's temporary custody and granted it to her instead.
The video, which shows the girl screaming and pushing her mother away, provoked an outpouring of sympathy and controversy from Thai netizens. The topic went viral online, with many asking why a judge would return the children to an environment where abuse was alleged to have occurred, especially when they openly displayed fear.
Simpson said in an interview Friday that he has been separated from Wang for four months and has had his reputation tarnished by Servan as collateral damage of their custody battle.
He said the court decided to return the children to Wang, a Chinese national, because Servan's allegations were "completely a lie."
"Would you take your kids to media if they were abused? Think about it," Simpson said. "It was not normal behavior. …He lied because he wants the kids back."
He said that he believed the children's reactions at the Lumphini Police Station in Bangkok one week ago were orchestrated by Servan, who has "brainwashed" the children.
"It was set up," he said. "Cedric said something to his kid in French, and they started to scream."
Simpson said he was innocent and confident the police would find no reason to charge him.
Wang did not respond to an interview request but wrote in an email that Servan had invented the story because he wanted custody of the children. She said the court granted her custody because Servan had been mentally abusive to the two children.
Mounting Allegations
In an interview Thursday, Servan said his daughter came to him with her "secret" for the first time in October. He said she was sitting on his lap when she told him her mother had slapped her and put her in a "dark room." He said the little girl also told him Simpson forced her to drink alcohol.
At the time, Servan and Wang were separated and traded the children every month. When they stayed with Wang in Pattaya, it was at Simpson's home.
The conflict intensified in late November. According to Simpson, Servan kidnapped the two from school. According to Servan, the children left school sick and Wang had failed to pick them up from the hospital. He says he was rescuing his children from mistreatment.
Since then, the two children have lived with Servan. The Frenchman said he went to the police in January to file a criminal sexual abuse complaint against Simpson after his young son made disturbing comments.
He said the boy asked him whether he wanted a special massage that Simpson had forced him to do. He alleges the boy told him Simpson also made him watch pornography.
Servan made his complaint with Nong Prue police in Chonburi province but later learned it was the wrong venue. On March 21, he went to Pattaya police, who then charged Simpson with minor offenses related to alleged mistreatment.
Police said Friday they have already forwarded that case to prosecutors for criminal action against the Briton.
Meanwhile the custody dispute was underway. Servan won temporary custody in late February, but has been unable to gain legal status under Thai law as he and Wang were not married. He said that his daughter told him in June she had been sexually abused on five occasions.
Servan went back to police on June 17.
He complained that police have been slow in their handling of the matter throughout the process.
When a medical examination at Police General Hospital in June found no evidence of rape and police had yet to take action, Simpson filed his own complaint against Servan, accusing him of filing a false police report.
"I am a big guy. If I touched the little kids, you would see the sign. But I never touched them," Simpson said, adding he has security cameras inside his home that could be used for evidence.
As for the custody battle, the Chonburi Juvenile and Family Court revoked temporary custody from Servan on Aug. 9 because he had refused to take the children to meet Wang several times.
"We told the court the children did not want to go and it could be dangerous for them," said Tatpol Chuenchopruk, a lawyer representing the French father. "But the court said the mother no longer has contact with David, and the investigators found she moved to a new home."
Simpson said Servan "locked the children up for nine months and did not let them go to school". He said the father mentally abused their children and condemned him for going public with such such a potentially damaging story.
Servan said he hopes the attention will help move the wheels of justice. The 39-year-old father said he doesn't mind coming under scrutiny so long as his children can start new lives.
The court's decision Friday to return the children to his temporary custody is valid for six months.