Update: The Interchange 21 branch is closed, but there are branches at EmQuartier, The Commons Thonglor, and The Commons Sala Daeng. 
BANGKOK —  After 15 formative years in Seattle and Los Angeles, Bird and Big returned to Thailand last year and unsatisfying, unhealthy office lunches of noodles and fried rice.
The returnees missed their healthy West Coast fare so much that they soon left jobs in finance to open their own place to bring healthy fare to Bangkok.
"Lunches here, like kao kaeng or guay tiew, are just carbs and fat with a few vegetables," Parinya "Bird" Srisunthisuriya, 31, said. "You get energy from eating carbs in rice, noodles and fried stuff, but nothing with nutrition."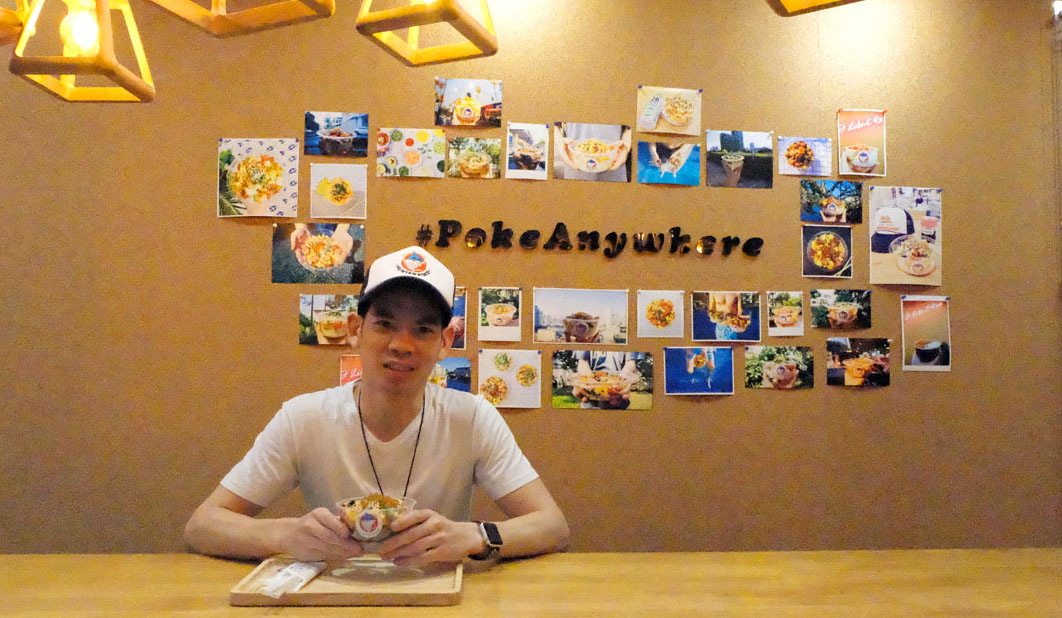 As for what they would serve, Bird and 30-year-old Nipat "Big" Karanes settled on their favorite trendy dish from the states: poke.
Poke is a Hawaiian fish salad, usually of cubed tuna mixed with vegetables and tropical fruits, sometimes served over rice.
So earlier this year they did their part in building the buzz for Hawaiian fare that's been happening in Bangkok when they opened Hunter Poke.
Read: Tikibar Brings Big Island Chill To Bangkok
Hunter Poke has two locations: a stall at The Commons Thonglor and a full-fledged eatery in the Interchange 21 building at Asok intersection. Customers line up at the counter to choose from six bowl options or order something custom.
Poke bowls range from 139 baht to 530 baht depending on how big they are and what's inside. Calorie counts are listed on the menu, and those sick of eating too much sugar will be happy to know none is used except in the seaweed rice.
In the Classic bowl, find rice topped with salmon, mango, pomelo, avocado, fried shallots and mixed with spicy mayo and shoyu (179 baht to 349 baht, depending on size). The X Factor comes with salmon, tuna, eel, tamago, edamame, mango, ikura and mixed with spicy mayo and shoyu (339 baht to 449 baht).
Parinya hopes Thais will be receptive to eating rice topped with fruit and fish, especially at the price point.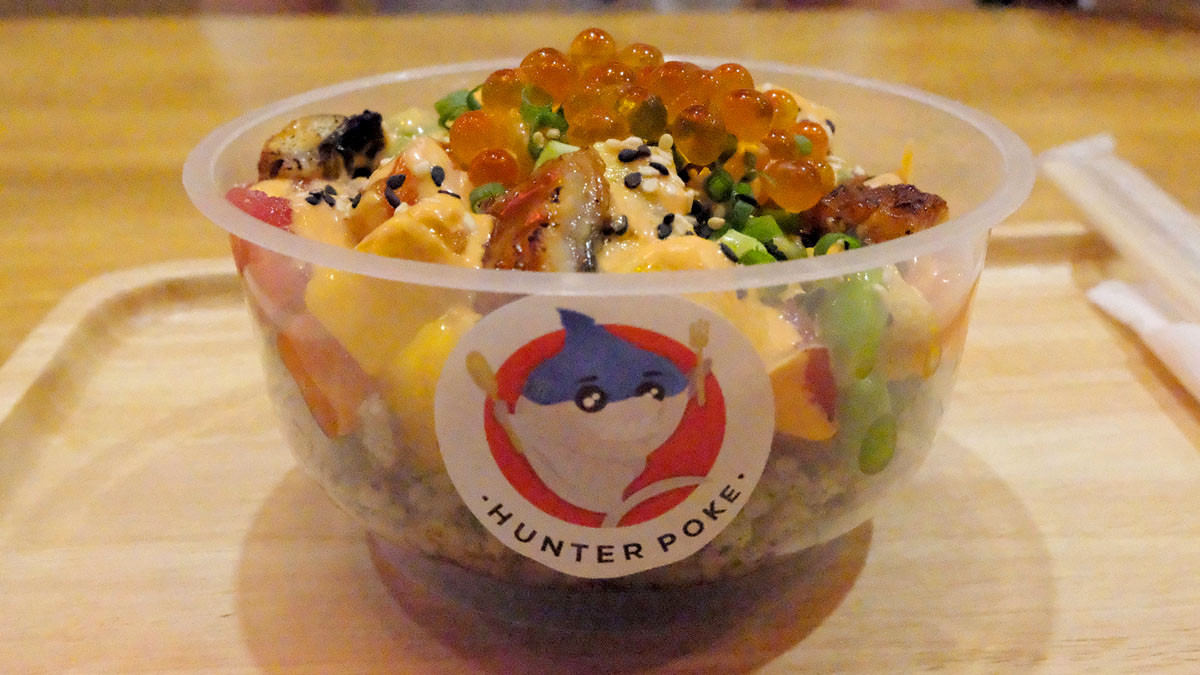 "Usually Thai people order the Sexy Salmon bowl because it's similar to Japanese food, rice topped with salmon and vegetables. But after a while they try out the other bowls and find that fruit can be eaten with rice," Parinya said.
Localized additions include pomelo, roselle, mango, guava and fried shallots. The cubed fish – salmon, tuna, engawa and eel – is weighed for standardized portions in each bowl and leftover fish is tossed at the end of the day, Parinya said.
Also available are acai fruit bowls, which he swears are identical to those served by trendy Los Angeles food trucks. The Acai Bowl is a refreshing blend of acai, blackberries, blueberries, pineapple, banana and coconut juice with the consistency of a creamy sorbet topped with a homemade granola mix.
"Each bowl uses no ice, but pure acai puree," he said, holding up a packet of frozen acai imported from Brazil. "You're getting 400 grams of fruit, rather than just sugar from a snack like bubble tea or a cookie."
The smoothies (150 baht to 250 baht) use no ice.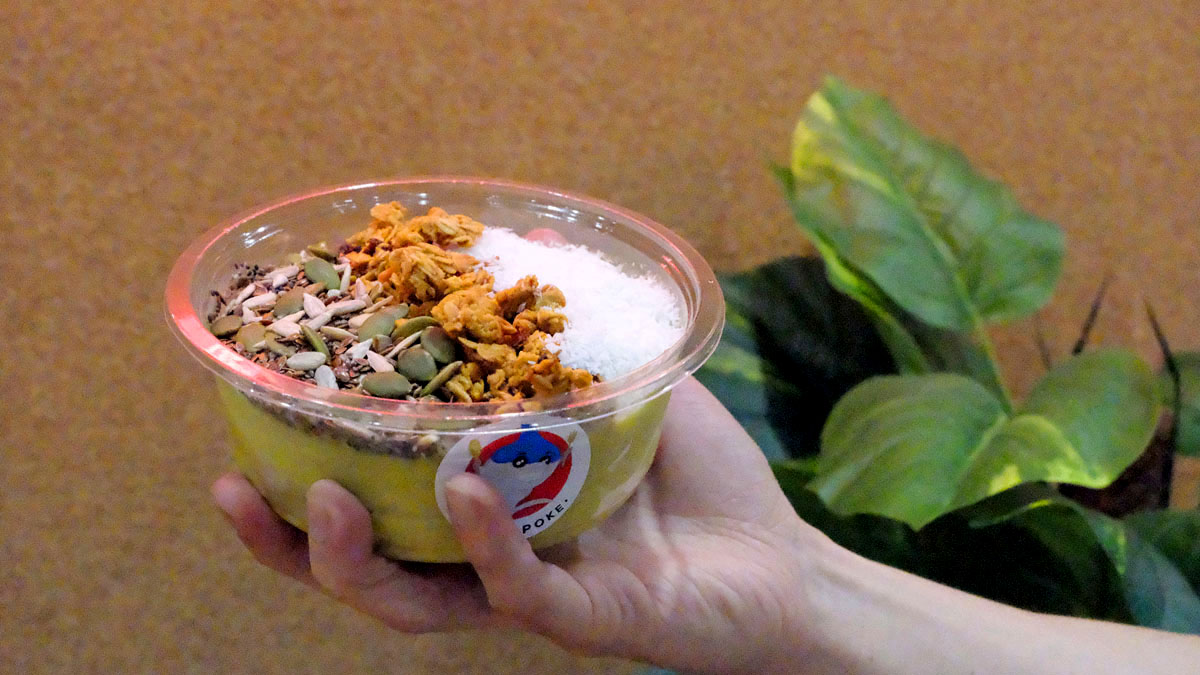 Hunter Poke is a nutritional vegetarian and vegan paradise as well — almost all of the dishes are veg-friendly if you ask for tofu instead of fish. All the fruit bowls, of course, are vegan.
For those who can't go survive a meal toxin-free, there's Hawaiian Kona beer available.
"In America, they're willing to pay premium prices for healthy food. But for Thai people, it has to be healthy as well as yummy," Parinya said. "At the end of the day, it's about how much you value your health."
The Interchange 21 branch of Hunter Poke located on the basement level and is reachable by foot from BTS Asoke and MRT Sukhumvit. It's open 8:30am to 8:30pm, Monday to Friday. The stall at The Commons Thonglor is open 8:30am to 9pm, Sunday to Thursday; and 8:30am to 10pm on Friday and Saturday.