Top: Staff at Pakalolo Tikibar & Dining present a cocktail called the Bikini and Bangkok Beach.
After years of lending his pipes and acting chops to dub the voice of a famous British television chef for four years and counting, Jakarat "Eart" Chotdamrong, 37, got so into character that he took what seemed the next logical step.
Eart opened a restaurant. But while his alter-ego Oliver is known for traditional English cuisine, Eart relied on his background as an islander to do something different – something very tiki-tiki.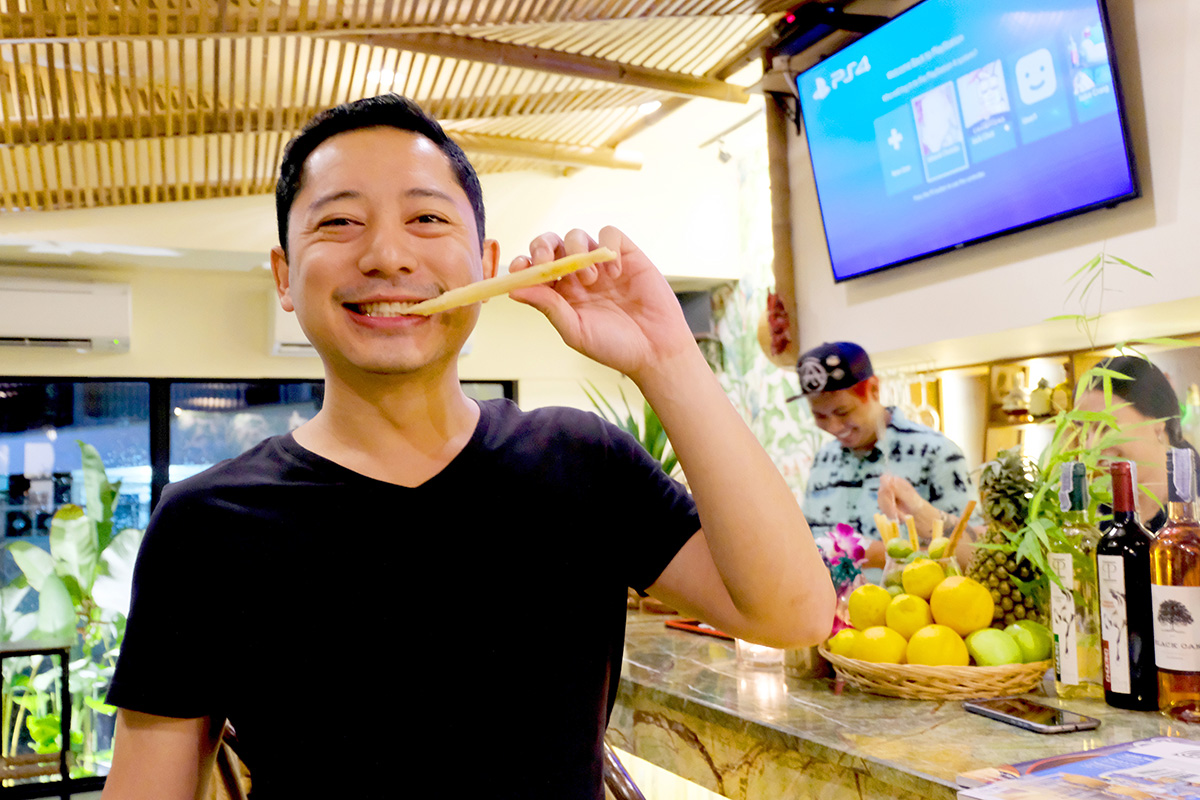 "I voice Jamie Oliver, so I get inspired by a lot of his recipes," Eart said. "I see a lot of food. I eat a lot of food, and since I also own a resort on Koh Chang, I wanted to bring the beachy, tiki vibe to Bangkok."
Chewing on a shoot of sugarcane on a recent evening, Eart was bursting with color and languidly swaying to soft island beats in Teva fishing sandals by the bar of Pakalolo Tikibar & Dining, which opened earlier this year. With rummy drinks and tropical food, Pakalolo landed at the right time, as Bangkok is in the grip of a Hawaiian fad evinced by explosively colorful aloha shirts blooming like common hibiscus in the markets.
One of Bangkok's only tiki-themed joints, the wicker-and-bamboo-filled bar in the Ari area aims to bring Polynesian-style exotic to a capital city that has become more sterile as its fortunes have grown.
Decorated with leafy tropical plants, Eart sees Pakalolo as an oasis of chill among the neighborhood's more pretentious cafes and watering holes.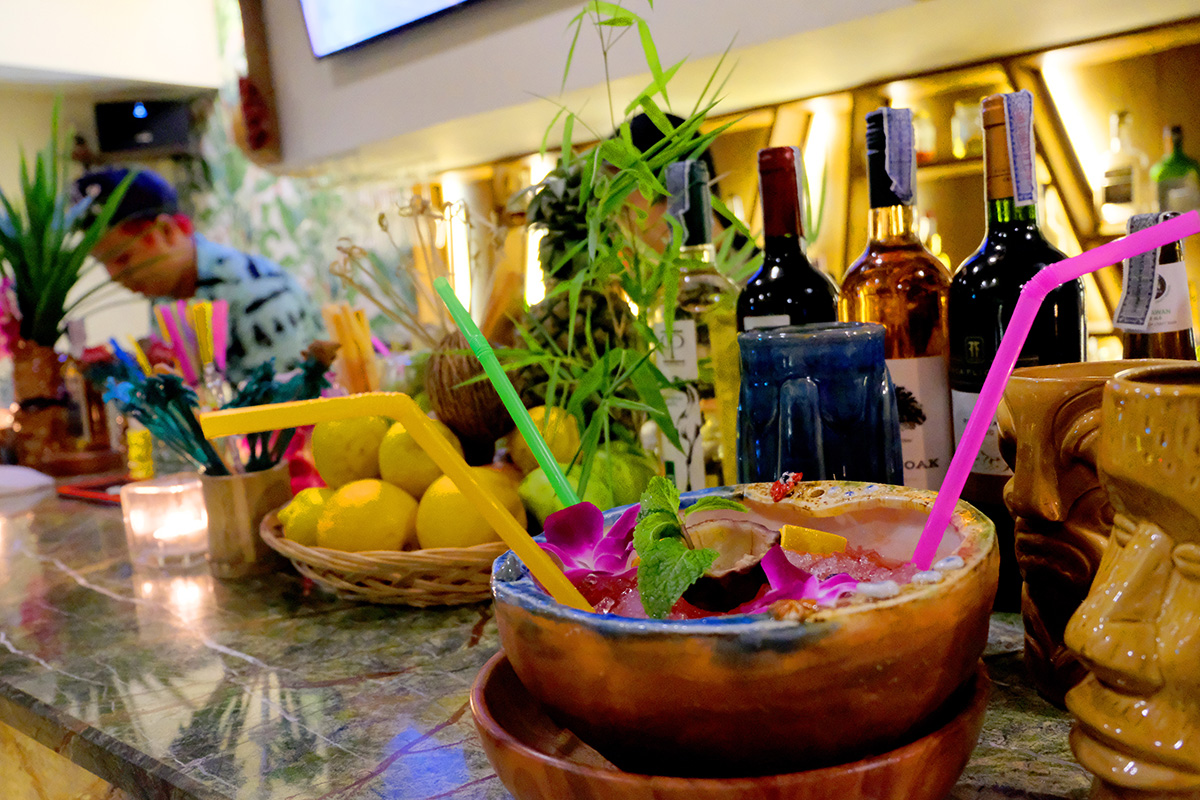 "There's too many industrial or minimal cafes and restaurants around here," Eart said. "You go in, and it's too cold and metallic. We wanted to make a beach bar where you can feel like you're relaxing by the beach in casual clothes with your friends – but in Bangkok."
Eart's mission is to provide "Vitamin Sea" to Bangkokians. The tiki aesthetic (he's never been to Hawaii) comes from his time running a resort on Koh Chang and collective memories of Bangkok's sabai sabai past.
"The sugarcane is inspired by those days of yore, when there were people pushing carts selling sugarcane juice through the streets," Eart said. "You don't really see that anymore, so I wanted to include that part of the city's history in my bar."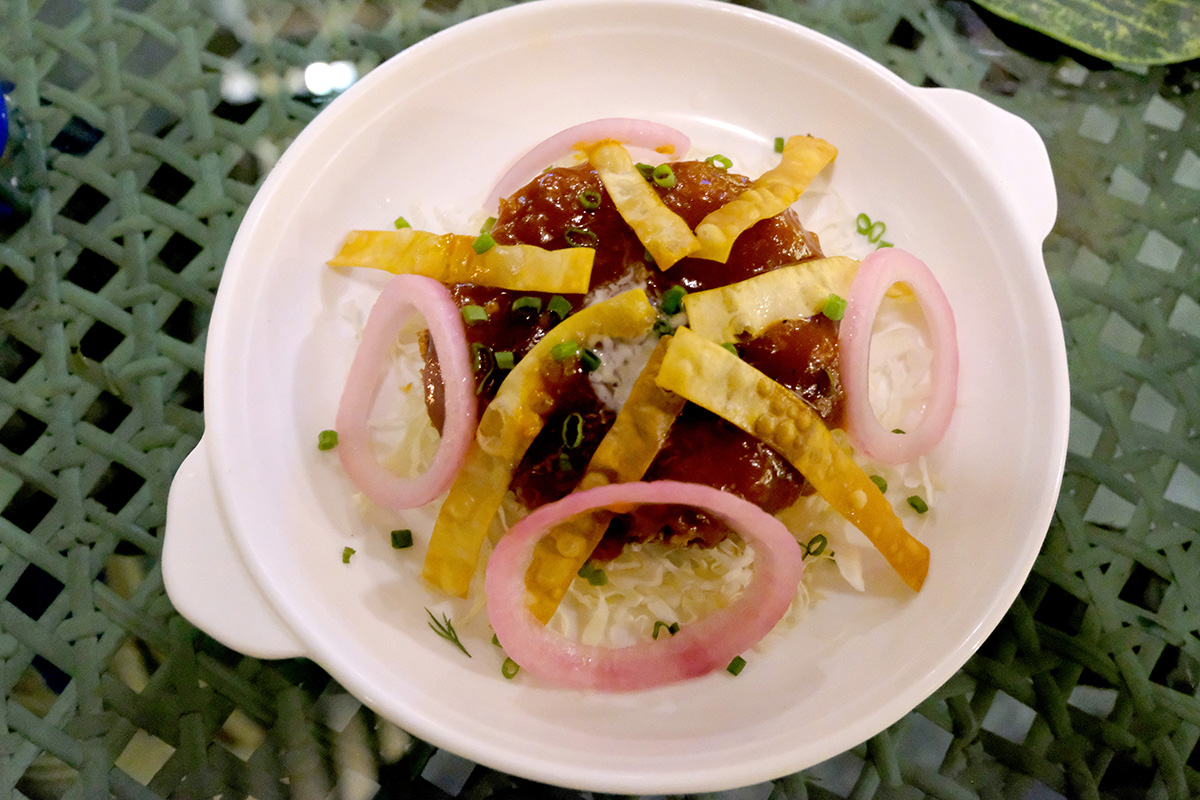 The food, an amalgam of Japanese- and American-inspired Hawaiian, was formulated using Eart's suggestions drawn from his days channeling the essence of Chef Oliver in the recording studio. Making them a reality is chef and restaurant co-owner Pichaya "Nott" Rangsiyanon, who relishes in creating American-Japanese fusion food.
"Oooh! Netflix!" Eart, the jack-of-all-trades, stops munching on a crab roll long enough to thumb around his Netflix app and bring up a food show to brush up.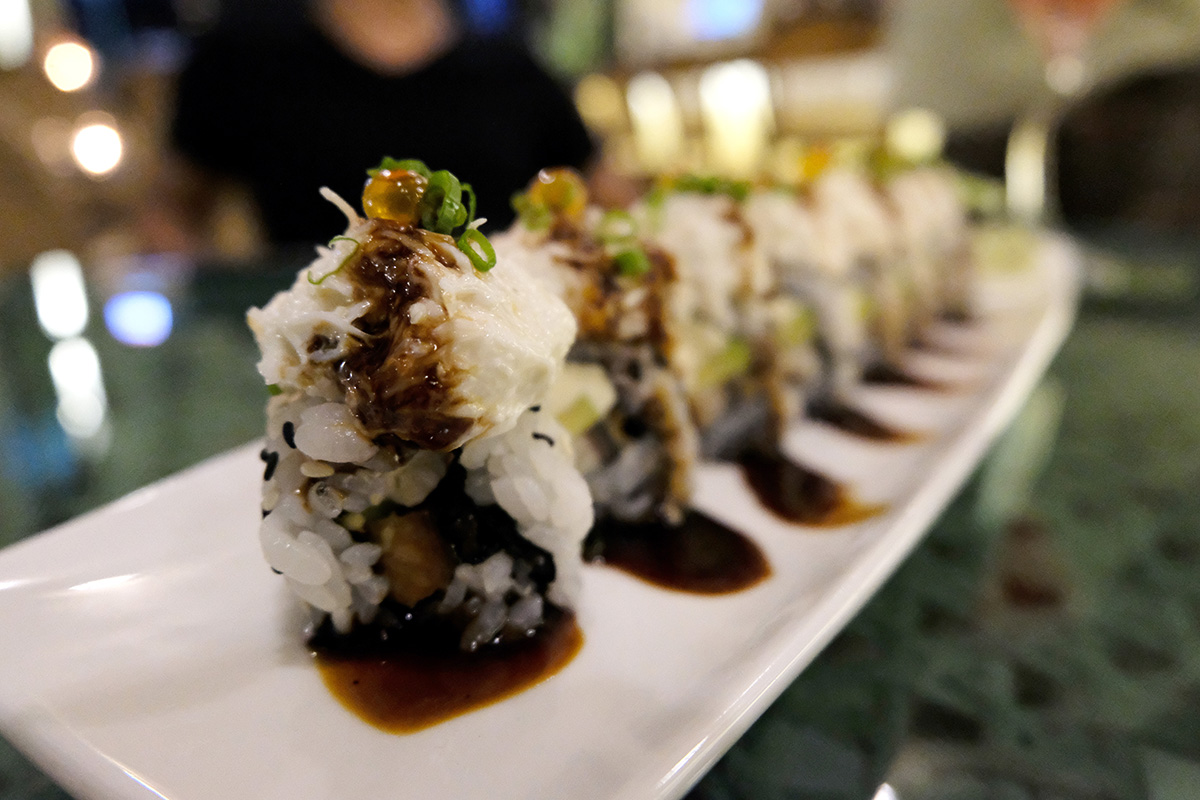 The Beef Peterson (280 baht), a sour-savory beef patty topped with in-house marinated red onions and fried giew (dumpling dough), is a favorite of Thai and expat diners, Eart said. The tuna poke (220 baht) and Holy Crab Roll (340 baht/590 baht for four/eight pieces), or rolls of sushi with cream cheese, avocado, unagi and crab, are a fusion dish that's worth one's time.
Vegetarian options include a baked eggplant with miso cheese (170 baht), avocado salad with Japanese dressing (220 baht) and a mixed mushroom pasta (220 baht).
Custom-made, faux-polynesian tiki mugs only add to the escapist bliss of sipping cocktails such as the brown Bikini (sugar and rum, 280 baht) and Bangkok Beach (vodka and chili, 280 baht) are other treat-yo'self-nice drinks. But for a truly tiki night out with colorful, gossipy friends, the Pakalolo Tiki Bowl (799 baht) of Mekhong whisky, absinthe, watermelon and pink guava will turn up to four patrons' polite smiles into flapping jaws heavy giggling for up to four people.
Pakalolo is good for after-work escape from concrete office-boxes to a small but cheerful world of banana leaf murals, bamboo rafters and copious rum.
Pakalolo Tikibar & Dining is open from 5pm to midnight on weekdays and from 11am to 1am on weekends. Find it on Ari 4 Fang Nua, just off Soi Phahon Yothin 7 in the Ari area, a walkable distance from BTS Ari.