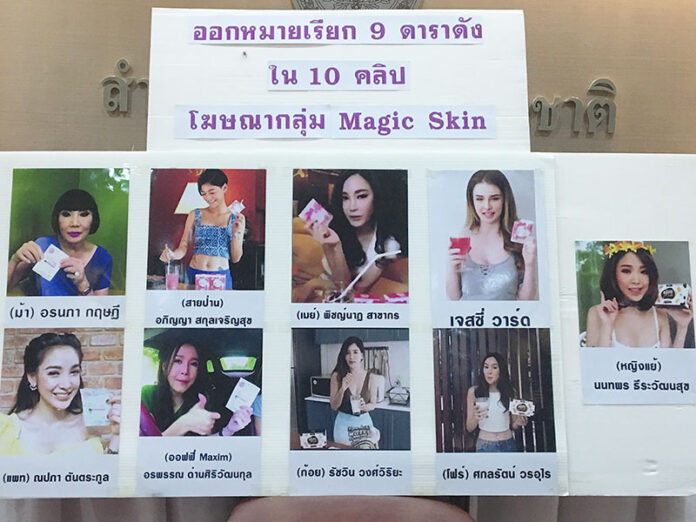 BANGKOK — Police on Thursday said they had summoned nine more celebrities for endorsing an unapproved cosmetics brand that allegedly caused adverse effects on customers.
Celebrities who endorsed cosmetics brand Magic Skin – which carried fake Food and Drug Administration, or FDA, certification – were summoned for police questioning Thursday after authorities raided a dozen of its factories over the weekend.
The nine, along with six summoned Tuesday, face charges of false advertising and computer crimes.
"Substandard, illegal products with fake certification were sold to citizens with the truth about these products covered up, damaging many people," police spokesman Gen. Weerachai Songmetta said Thursday. "We found that a lot of people who reviewed these products were famous celebrities, artists, actresses and Internet idols."
The nine are Apinya "Saypan" Sakuljaroensuk, Phitchanat "May" Sakhakon, Jessie Vard, Napapa "Pat" Tantrakul, Orapan "Aoffy Maxim" Dansiwattanakun, Ratchawin "Goy" Wongviriya, Sakonrat "Four" Woraurai and Nontaporn "Ying Yae'" Teerawatanasuk and Ornapa "Ma" Krisadee – a transgender TV personality who said it was not a celebrity's responsibility to check up on product safety.
The celebs reviewed beauty supplements such as Fern Vitamin, Fern Cleo, Vitamin Shinobi, Mezzo and Slim Milk products under the Magic Skin label.
Read: Police Summon Celebs for Endorsing Unapproved Cosmetics
"Only 100 baht. It's safe, FDA-approved and imported from Switzerland," Phitchanat "May" Sakhakon says in an Instagram video clip advertising substandard supplement Mezzo, which police presented during a press conference.
"Someone used it and got pimples and rashes all over their face, so they went to the doctor. From investigating, the 100 baht serum is actually made from soybean. It took 10 baht to produce," Weerachai said.
Weerachai also said that Slim Milk was found to be just powdered milk, but Nontaporn advertised it as having slimming benefits.
"This isn't normal milk. Drink it and you'll be thin!" Nontaporn says in an advert.
"I'd like to apologize for not checking it well enough. After I reviewed it many people bought the product because of me. I will be more careful and selective about products in the future. Although the company also tricked me, I won't sue them because they will probably receive enough punishment," Nontaporn said Thursday.
Weerachai said celebs faced charges of false advertising of cosmetics, which carries a maximum sentence of one year in prison and a fine of up to 100,000 baht. False advertising of food is punishable by up to three years in prison and 30,000 baht and uploading false information into a computer system can lead to a five-year jail term and a 100,000 baht fine.
Magic Skin products – sold under more than 250 labels – had the wrong type of certification, were found to contain substandard ingredients and were produced in factories without permits. Their storehouses were raided and owners arrested since Saturday.
Weerachai said a total of 59 celebrities so far have endorse Magic Skin products – most of them paid more than 100,000 baht – and that they would gradually be summoned for questioning. He said more than 500 consumers have had adverse effects from using Magic Skin.
"I'd like to warn other stars that they have to check up on products before endorsing them as a responsibility to the public," Weerachai said.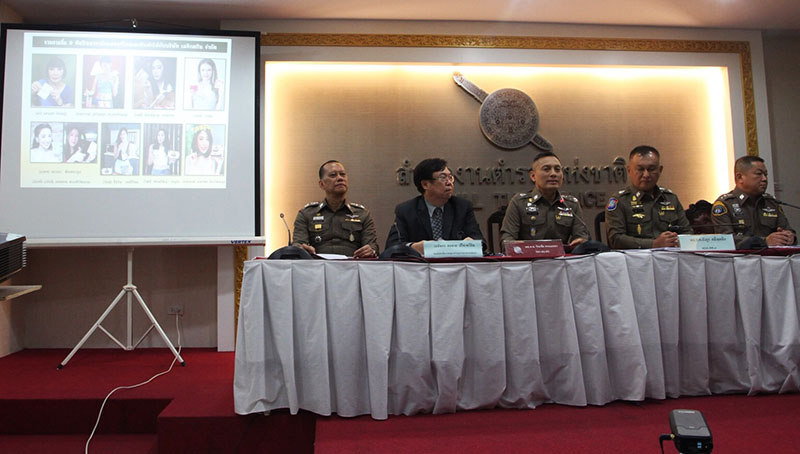 Related stories: