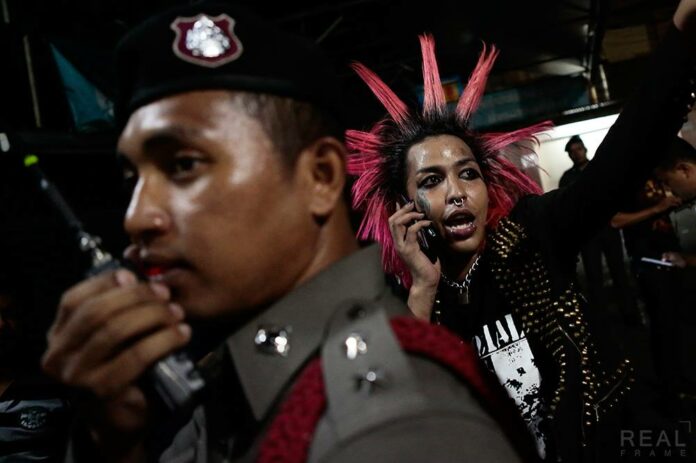 BANGKOK — Ten punk rock musicians were arrested Saturday for singing songs deemed insulting to the leaders of the ruling military junta.
Four members of The Blood Soaked Street Of Social Decay and six other punk rockers were taken into custody Saturday after singing songs berating Gen. Prayuth Chan-ocha and Gen. Prawit Wongsuwan at Almost Four Years, You Motherfucker, a punk music event to commemorate four years of military rule. They also set an image of Prayuth aflame.
"Soldiers and police said it crossed the line. They thought it was defamation," event organizer Yuttajak Dumsuwan said Monday. "But we have no law against defamation of leaders of state or against burning pictures. It's not 112. It's berating the prime minister and government that uses our taxes. Of course citizens can do that."
Blood Soaked was the penultimate band to perform at the event held late Saturday night on Ratchadamnoen Avenue at a memorial for civilians killed protesting for democracy in 1973.
"Prayuth! Prayuth! Ai hia!" a member of Blood Soaked yelled before burning a poster bearing Prayuth's face.
Police and soldiers then arrested the band members and event organizer. They were taken to the nearby Chana Songkhram Police Station on Khaosan Road.
"The police were worried there would be a political demonstration," Yuttajak, 36, said.
None was charged with any crime, but police recorded the incident in official police records.
"What are you arresting me for?" Kitikea "Guer Pure Punk" Kanpim, a punk rocker with his hair in hot pink liberty spikes, yelled to police while being arrested.
The 10 arrested were Yuttajak, another organizer, the stage host, two photographers, Kitikea, and the four band members of Blood Soaked.
Kitikea wasn't a member of the band but had rushed the stage to join them when the police moved in. Blood Soaked consists of a lead singer, guitarist, bassist and drummer.
Yuttajak, who is also a musician, said the underground Thai punk scene is very political.
"The punk scene has a lot of political songs," Yuttajak said. "We didn't want to have a problem with the authorities. We just wanted to add a bit of color. During the Yingluck and Abhisit era, we also berated them a lot."