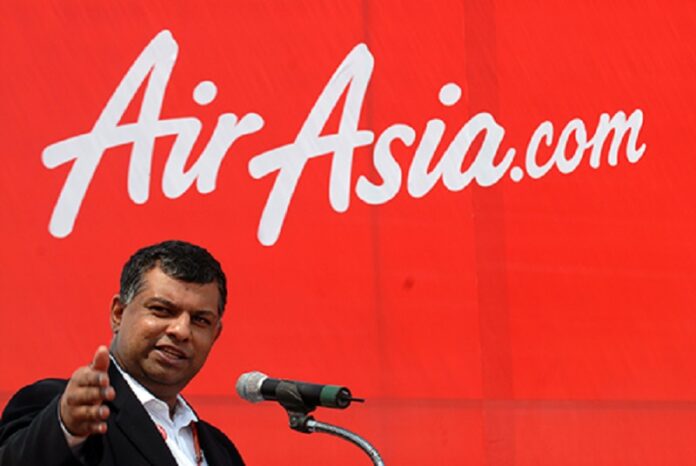 KUALA LUMPUR — Shares of regional budget airline AirAsia plunged Monday after its chief Tony Fernandes apologized for supporting defeated Prime Minister Najib Razak in a historic election last week that ended with a victory for a four-party alliance led by Mahathir Mohamad.
The upset brought Malaysia's first change of government since it gained independence from Britain in 1957.
Fernandes has praised Najib's coalition in a video released ahead of the polls. He was also pictured with Najib in an AirAsia plane emblazoned with the coalition's campaign slogan and with the cabin crew's signature red uniform changed into the coalition's deep blue.
Fernandes apologized Sunday for "buckling" under government pressure. He said he has been asked to remove former trade minister Rafidah Aziz, who has openly supporter Mahathir, as chairman of his long-haul budget unit AirAsia X and also cancel extra flights at low fares ahead of the polls.
He said he was part of a highly-regulated industry where nearly everything requires government approval and was foolish to think that his endorsement would appease the government and protect jobs.
"Under the intense pressure, I buckled. It wasn't right; I will forever regret it," Fernandes said. "It is still the happiest moment of my life that we have a new Malaysia that will give everyone an amazing chance to reach the skies."
AirAsia stocks fell as much as 13 percent from their last traded price last Tuesday before market holidays during and after the May 9 election. They recovered some of that lost ground by midday Monday, trading at 3.55 ringgit, down 4 percent from Tuesday's close.
The benchmark index also rebounded after opening lower, gaining 0.4 percent, while Malaysia's currency dipped in a knee-jerk reaction to uncertainties over the change in government.
The dollar was trading at 3.95 ringgit as of midday after climbing as high as 4.05 ringgit.
Mahathir has inherited a robust economy that grew at a three-year high of 5.9 percent last year but some are worried over his government's pledges to abolish an unpopular 6 percent goods and services tax, revive fuel subsidies and review big projects linked to China's regional infrastructure initiative.
Mahathir has moved swiftly by naming Lim Guan Eng, a trained accountant who helmed the small but wealthy state of Penang for a decade, as finance minister and set up a special five-member economic council that include a renowned former central bank governor and Hong Kong-based billionaire tycoon Robert Kuok, Malaysia's richest man.
Story: Eileen Ng