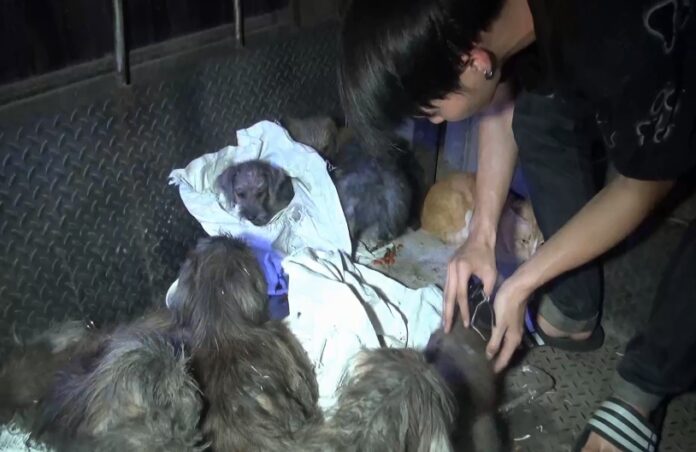 SAMUT PRAKAN — More than a dozen starving dogs and cats were found trapped Wednesday inside sacks in the back of a pickup truck.
Local residents found the truck parked in a small alley in southeast metro Bangkok. They cut the sacks open to rescue the 12 dogs and two cats. Witnesses said the animals looked weak and suspected they had been deprived of food and water for some time.
"I parked my car near the truck. When I walked back to it I heard dog sounds coming out from the back," said Patipan Thaiyakorn, who first spotted the animals. "I saw the sacks moving and heard dog and cat sounds. I went, untied a sack and found a dog in it."
More people later gathered to help cut them loose and feed them.
Maj. Utit Soodjai of Samrong Nuea police station said officers will track down the truck owner for questioning, but suggested that person may not be the culprit.
"This could be an animal smuggling gang that leaves them in random abandoned cars to avoid the authorities," he said. "We will investigate further, find whoever put the animals in the sacks and press charges according to animal protection laws."
Under a revised 2014 law, animal cruelty is a crime punishable by up to two years in prison and a fine of 40,000 baht.