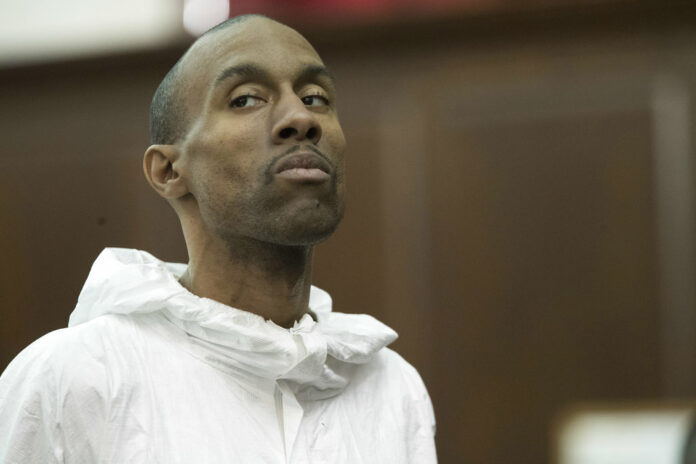 NEW YORK — A man who fled to Thailand after allegedly tossing his dead 7-month-old son into a river sent a chilling text to the mother while he was on the run about the fate of her child, prosecutors said Friday.
When the mother asked where her son was, James Currie replied "you will never see (him) again," according to a criminal complaint.
Currie, 37, was ordered held without bail on Friday at an appearance in state court in Manhattan where Assistant District Attorney Shawn McMahon said he had been caught "literally on the other side of the world." The Bronx father was charged with concealing a human corpse as authorities continued to try to determine a cause of death.
Afterward, defense attorney Norman Williams said, "Everybody needs to keep an open mind and not convict this man until they see evidence that he did something wrong."
Currie is accused of throwing the lifeless, diaper-clad body of his son, Mason Saldana, into the East River near the Brooklyn Bridge on Sunday. A tourist spotted the body and waded into the water to retrieve it.
According to the complaint, police obtained security videotape showing Currie, who lives separately from the child's mother, entering his apartment building on Saturday afternoon with the child, "who can be seen moving his extremities." On Sunday afternoon, video shows him leaving with a baby carrier on his chest with a blanket over it, this time showing no movement, the complaint says.
Transit records show that Currie then boarded a bus to travel to Manhattan, where he got on the subway, the complaint says. A few hours later, he entered the subway again in lower Manhattan where a security camera captured an image of him without the baby carrier, it says.
The baby's mother told police in New York that she became worried Monday when Currie failed to drop off their child at day care. She called 911, police said, telling the dispatcher that she had seen news reports about a baby found in the river and feared that it was her son.
On Wednesday, Currie texted the mother, telling her she would never see the child again, the complaint says. It adds that in other texts, he wrote, "I am not in the USA," and "The good news is that we will never see each other again."
Police say Currie had flown to Bangkok on Monday afternoon, switching flights along the way. Immigration police spokesman Col. Cherngron Rimpadee, told The Associated Press that by the time Currie touched down, immigration authorities there had been informed that he was wanted in the U.S. and detained him.
He was sent back to the U.S., where he was escorted off a plane at Kennedy Airport late Thursday and turned over to police and border agents.
Story: Stephen R. Groves