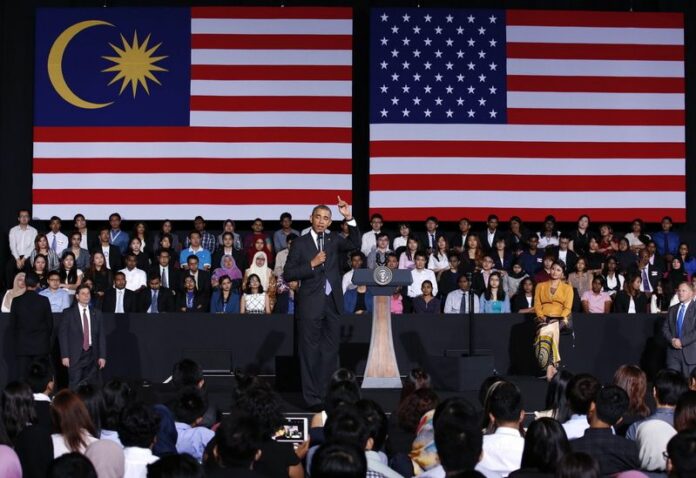 By Girlie Linao (DPA)
MANILA — US President Barack Obama on Tuesday wrapped up his four-nation Asian rebalance tour in the Philippines with a vow that America's allies would "never stand alone" amid rising regional tensions over territorial disputes with China.
"Deepening our alliance is part of our broader vision for the Asia Pacific," Obama told US and Philippine troops before leaving Manila.
"Our commitment to defend the Philippines is ironclad and the United States will keep that commitment, because allies never stand alone," he added.
The Philippines has been struggling to defend its territories against alleged incursions by China in the disputed South China Sea, where Beijing has deployed ships and troops to reinforce its sweeping claims.
Obama said a 10-year defence pact signed hours before he began his visit in Manila, which allows a greater US military presence in the Philippines, would boost the Philippine military's capabilities.
"Under our new agreement, American forces can begin rotating through Filipino airfields and ports," Obama said. "We'll train and exercise together more to bring our militaries even closer, and to support your efforts to strengthen your armed forces."
After the meeting with the troops in a gym, Obama visited a nearby American war cemetery, where more than 17,000 US servicemen who died mostly in World War II are buried with some Filipinos
He began the day by viewing an electric mini-bus called the Comet, which was developed by US firm Pangea Motors with the aim of replacing some of the smoke-belching diesel jeepney vehicles that are often blamed for Manila's congested traffic.
He first inspected a traditional red jeepney with shiny chrome fenders, before stepping into the Comet.
Throughout his Asian tour that also took him to Japan, South Korea and Malaysia, Obama repeatedly stressed the need for countries to uphold international law and preserve freedom of navigation and commerce.
"We believe that nations and peoples have the right to live in security and peace, and to have their sovereignty and territorial integrity respected," he said. "We believe that disputes must be resolved peacefully and not by intimidation or force."
Analysts said Obama's Asian trip ended on a "high note" in terms of security cooperation because of the enhanced defence cooperation agreement with the Philippines.
But the trip failed to achieve a similar outcome for its goal to push the Trans Pacific Partnership, according to political science professor Benito Lim.
"It was his primary objective to make the countries he visited to sign the TPP," he said. "But not one of the countries signed the TPP. The Philippines pledged to look at it and we might agree."
The TPP, which is intended to replace the World Trade Organization, "is the American dream," Lim added. "That's their only way of offsetting China's economic dominance today."
On Monday, Obama stressed that the defence pact with the Philippines and Washington's pivot to Asia does not aim to counter or contain China.
"It's inevitable that China is going to be a dominant power in this region, just by sure size," he said after a meeting with Philippine President Benigno Aquino.
"The question is whether other countries in the region are also able to succeed and prosper on their own terms and attend to the various interest and needs that they and their people have as well," he added.