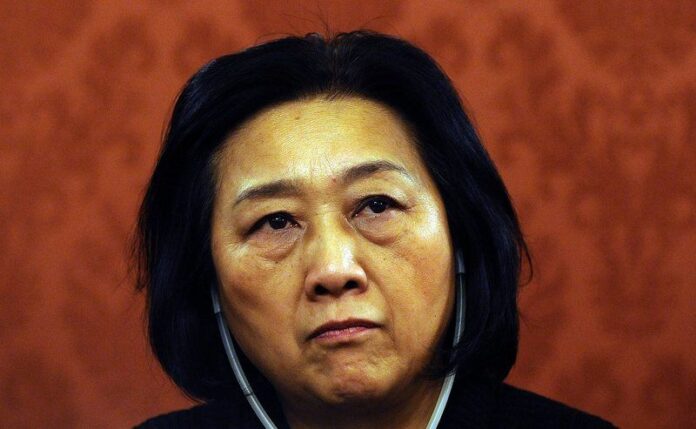 By Bill Smith (DPA)
BEIJING — Chinese police have detained prominent journalist Gao Yu on charges of passing state secrets to an overseas website, China Central Television said on Thursday.
The state broadcaster showed Gao, 70, confessing to the charge and saying her action had "harmed national interests."
But London-based Amensty International accused China of "using trumped-up charges" against the well-known government critic, who was a regular contributor to Germany's Deutsche Welle.
Beijing-based dissident Hu Jia, a close friend of Gao, said he detected a "change" from her usual voice in the video, in which her face was obscured.
"We hope people don't believe that this is the real Gao Yu," Hu told dpa by telephone, adding that security officers had coerced other activists into making filmed confessions.
"Gao is the latest victim of China's vaguely worded and arbitrary state secret laws, which the authorities repeatedly use as a smokescreen to target activists," said Anu Kultalahti, Amnesty's China researcher.
"The TV confession proves nothing and is likely to have been made under duress," Kultalahti said.
Other state media quoted a Beijing police statement as saying Gao was suspected of "illegally obtaining a highly confidential document and sending an electronic copy of it to an overseas website" in June.
Observers speculated that the charge could be linked to a Hong Kong-based website's publication of an internal file, known as Document No 9, that discusses political threats to the ruling Communist Party.
"The information contained in Document No 9 in no way merits being classified as a state secret," Kultalahti said. "If Gao is being held for sharing this document, she must be immediately released."
Hu said Gao's apparent leaking of the document had "historical significance."
"She's letting international society understand [party leader] Xi Jinping's true nature," he said.
The leaked document lists seven "noteworthy problems" facing the party's ideology, including attempts to undermine it with "Western constitutional democracy," and the promotion of "universal values" and civil society.
It warns party members that "Western anti-China forces and internal dissidents" are trying to challenge "our mainstream ideology."
Gao was previously sentenced to six years in prison in 1993 on the same charge of leaking state secrets to a Hong Kong newspaper.
Police detained her again on April 24 and seized "substantial evidence" at her Beijing home, state media said.
Her arrest came amid a crackdown on dissent ahead of the 25th anniversary of the party's military suppression of democracy protests overnight on June 3-4, 1989.
Gao was detained for more than one year in the crackdown that followed the 1989 protests, but she was released on health grounds. She has a "direct link to June 4," Hu said.
Police in Beijing have detained at least five activists on public order charges this week after about 20 people held a seminar on Saturday to mark the anniversary.
They have placed Hu and other dissidents under house arrest.
"The timing of Gao's detention is highly dubious and raises serious questions as to the authorities' true motives," Kultalahti said.