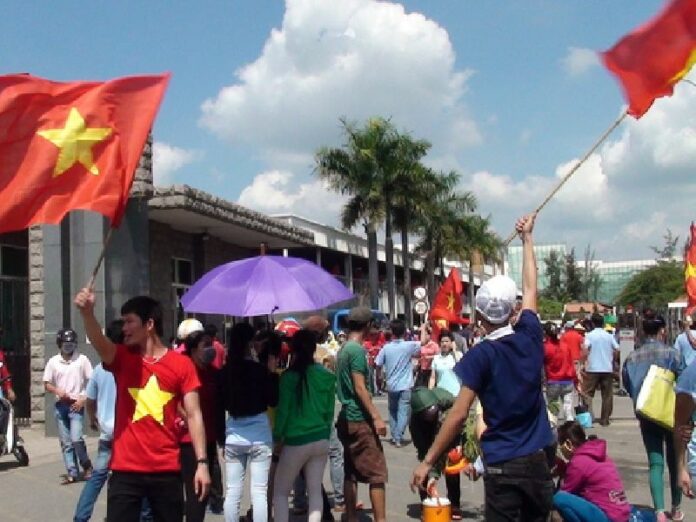 HANOI (DPA) — Foreign ministers from Vietnam and China held discussions over recent deadly protests sparked by the placing of a Chinese oil rig in disputed waters, local media reported Friday.
Vietnam's Foreign Minister Pham Binh Minh, also deputy prime minister, held a telephone conversation with his Chinese counterpart Wang Yi Thursday, newspaper Viet Nam News reported.
It is the highest-level contact between the two countries over the recent crisis.
Two requests from Communist Party chief Nguyen Phu Trong to visit China to discuss the dispute have been rejected, a senior Vietnamese official said, requesting anonymity.
Foreign Minister Minh said Vietnam strongly objected to China's deployment of the oil rig in waters between Vietnam and the Paracel islands, which both countries claim. He said that recent riots had been caused by "particular individuals," the report said.
During a visit to Washington Thursday China's military chief General Fang Fenghui said the country would not cede any ground in the ongoing territorial disputes in the South China Sea.
The territory in question had been "passed down by our ancestors" and China would not lose "an inch," he said.
Vietnam's authoritarian leadership appears to have sanctioned anti-China protests in major cities, but several demonstrations turned violent during the past week, with one Chinese worker killed at a steel mill in central Vietnam.
On Thursday evening Prime Minister Nguyen Tan Dung sent a text message to mobile phone subscribers calling for people to "heighten patriotism," and not allow "bad elements to incite and do extremist things to cause losses to the country's interests and reputation."