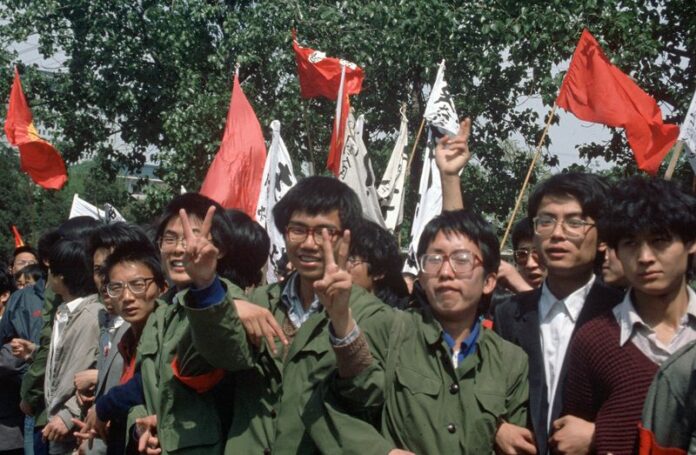 By Bill Smith (DPA)
BEIJING (DPA) — Qi Zhiyong says his missing lower left leg, amputated after a serious bullet wound, is a daily reminder of the Chinese Communist Party's military crackdown on democracy protests on June 3-4, 1989.
His sternest annual reminder of the 1989 crackdown, which dissidents call the Tiananmen Massacre, arrives in the form of visits from National Security police.
"I have been held under house arrest at home since May 10. A police car and National Security police guard my door 24 hours a day," Qi told dpa before his disappearance on May 16.
Qi, 58, was shot near Beijing's Tiananmen Square as troops dispersed protesters in the early hours of June 4, 1989.
He suffers from diabetes, kidney failure, high blood pressure and heart problems, conditions that he believes are at partly caused by the amputation of his leg and the authorities' controls on him over the past 25 years.
"I have lost my freedom of movement [again]," Qi said. "This is the 25th anniversary, so they prepared early."
Police have mounted a major security campaign against dissidents ahead of the anniversary, detaining several dozen activists and holding scores of others under various forms of house arrest.
Hu Jia, a well-known dissident and friend of Qi, said he was kept under house arrest from February. Hu has called for activists to travel to Tiananmen Square on Wednesday and take photographs of themselves wearing black shirts to mark the anniversary.
Qin Yongmin, a founder of the banned China Democracy Party in the central city of Wuhan, is among several other activists who have disappeared.
Police took retired official Bao Tong, now a prominent dissident, for an enforced "vacation" outside Beijing on Friday, his Hong Kong-based son told dpa.
Bao, 81, spent seven years in prison from 1989. He is a former aide to Zhao Ziyang, a Communist Party leader who was purged for sympathizing with the democracy protesters.
Beijing police also detained about a dozen rights activists after they held a small seminar last month to mark the anniversary. At least five activists who attended the seminar were charged with "picking quarrels and causing trouble."
On Tuesday, the China Human Rights Defenders said it had recorded more than 80 people affected by the recent crackdown, including 38 activists held under criminal detention.
Similar detentions, harassment and house arrests happen before each June 4 anniversary, but the current one is "harsher than in recent years," said William Nee, China researcher at Amnesty International.
The European Union said it was "deeply concerned by the recent arrests and detentions of a large number of peaceful human rights defenders, lawyers and intellectuals."
The Beijing-based Foreign Correspondents' Club of China on Monday condemned China's "increasing harassment and intimidation" of foreign reporters ahead of the anniversary, saying police had threatened some journalists with denial of visas.
"The intimidation of journalists and their contacts shows the deplorable lengths the authorities are prepared to go in their efforts to wipe the bloodshed of 1989 from memory," Nee said.
Authorities have deployed hundreds of thousands of uniformed and plain-clothes police, paramilitary officers, security guards and volunteers to monitor and control Beijing's 20 million people.
Police in Beijing and other cities also added patrols of special forces and anti-terrorist units following several recent terrorist attacks.
The Communist Party allows no public commemoration of the 1989 crackdown. It has rejected repeated calls for an open investigation of the use of tanks and live ammunition against the protesters.
The informal Tiananmen Mothers group has confirmed the deaths of some 200 people in the crackdown but says it believes the total number of casualties is much higher. It is led by retired university professor Ding Zilin, whose 17-year-old son was killed by a soldier's bullet, and includes dozens of other parents and injured victims.
Police have forced Beijing-based Ding and her husband, Jiang Peikun, to take an extended vacation in their home city of Wuxi.
This year's crackdown appears to reflect the party's "fear that even the mention of Tiananmen might spark widespread protests challenging the regime's legitimacy," said Renee Xia, the international director of the China Human Rights Defenders.
"By refusing to open up even a sliver of space for victims of state abuses to seek justice, the CCP (Chinese Communist Party) remains one of the most recalcitrant perpetrators of human rights abuses in the world," said Victor Clemens, the group's research coordinator.
"It's 25 years. They're still sentencing people [for democracy activism]," said Qi.
"Every day is June 4," he said. "I remember it every day."