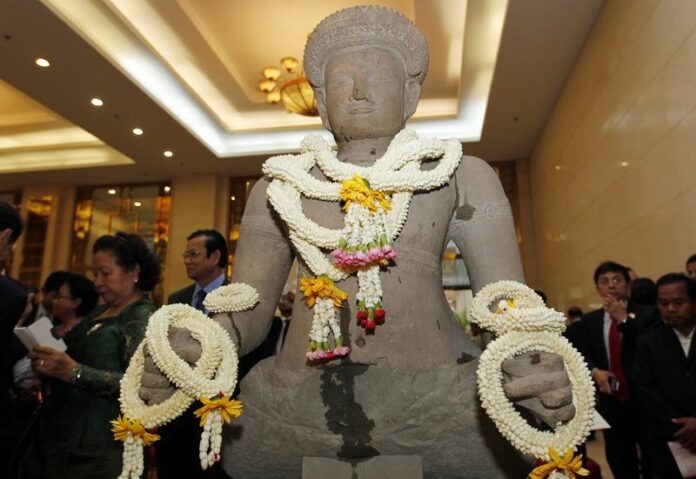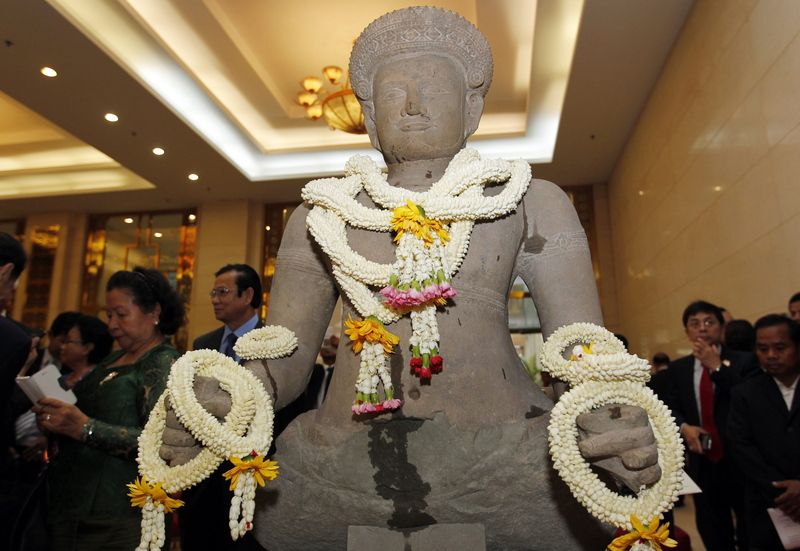 By Kate Bartlett (DPA)
PHNOM PENH (DPA) — Three ancient Angkorian statues that were looted from Cambodia during the turbulent 1970s have been returned from the United States and were unveiled Tuesday in Phnom Penh.
The 10th century warrior statues, known as the Duryodhana, the Bhima and Balarama were repatriated to Cambodia, after the country approached several US museums and auction houses with allegations that their artefacts were looted from the Koh Ker temple in Preah Vihear province.
The life-size sandstone pieces were displayed together at the Council of Ministers building in Phnom Penh, along with their hacked pedestals, and will shortly be on permanent exhibition at the National Museum.
In a speech to assembled government officials, UNESCO officials and diplomats, Deputy Prime Minister Sok An welcomed the statues' return.
"In a 40-year journey, surviving civil wars, looting, smuggling and travelling the world, these three have now regained their freedom and returned home," Sok An said.
"Cambodia appeals to other museums and art collectors around the world to follow the example of returning plundered treasures to their rightful owners as part of the worldwide campaign for the protection of cultural heritage," he said.
The Duryodhana statue, valued at 3 million dollars, was up for auction at Sotheby's in New York until Cambodia, with the help of the US authorities, had it seized and filed suit against Sotheby's. In December, with legal wrangling continuing, Sotheby's agreed to send the statue back to Cambodia.
Cambodia had also sought the return of the Bhima, which was housed at the Norton Simon Museum in California. Last month, the museum, in a "gesture of friendship," agreed to return the piece.
The third statue, the Balarama, was given back to Cambodia by Christie's auctioneers after they determined it had indeed been looted.
"We at Christie's are delighted to know that this very important statue finds its way back to its birthplace," said Martin Walter, a Christie's representative in attendance.
Jeff Daigle, deputy chief of mission for the US Embassy in Phnom Penh, which aided the Cambodians with their attempts to reclaim lost heritage, said the US would not act as a safe haven for looted art.
"While we celebrate a happy ending … we must not forget that the commercial trade in illicit art remains," Daigle added.