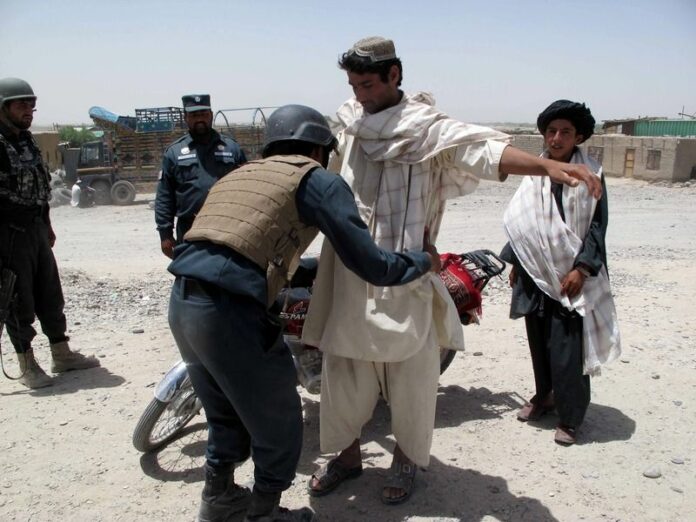 KABUL (DPA) — 160 people have died and thousands displaced by clashes between Taliban militants and Afghan security forces in four volatile districts in the country's south, officials said Wednesday.
"Overnight attacks by militants on security force checkpoints have been carried out since Friday targeting police in Nawzad district," said Abdul Bari Barakzai, head of Helmand provincial council.
"Later on, they spread their attacks to Sangin, Kajaki and Musa Qala districts," Barakzai told dpa.
He said 40 civilians "have so far died, while some 2,000 families have fled their villages," adding that 21 security forces and 100 militants had been killed in the fighting.
Barakzai added that reinforcements were sent to the districts. "We have more than 20,000 soldiers and enough police in Helmand who can repel the insurgents," he said.
Qari Yousuf Ahmadi, a spokesman for the Taliban, said: "The mujahideen captured several checkpoints and killed and injured dozens of soldiers and police."
President Hamid Karzai called on the Taliban to refrain from killing civilians, and ordered a 5 million-Afghani (90,000-dollar) donation to the victims of the attacks.
In Brussels, meanwhile, NATO Secretary General Anders Fogh Rasmussen said the alliance had taken another step towards handing over full security responsibility to Afghan forces at the end of 2014, and shifting its presence to a training and support mission.
"Today, we endorsed the detailed operational plan for that new mission," Rasmussen said, adding that NATO ministers had made "concrete and also quite substantial" troop commitments, ahead of a force generation conference due to take place early next month.
The US has already pledged an initial 9,800 troops to the post-2014 mission, codenamed Resolute Support.
But Rasmussen said the "next step" now lies with Afghanistan, which must sign key agreements forming the legal underpinning for NATO to remain in the country.
This is not expected to happen before Afghanistan's appoints its next president, once the outcome of recent elections is known. Karzai's successor could be inaugurated on August 2, Afghan deputy Foreign Minister Ershad Ahmadi said in Brussels.
The alliance hopes that most details of its post-2014 mission will be settled in time for leaders to give their formal approval at a NATO summit taking place in September in Newport, Wales.
Back in Afghanistan, meanwhile, a district police chief and his bodyguard were killed in Ghazni province.
"Hadi Moayyat, police chief for Khoja Omari distric was on his way to the district when a roadside bomb hit his car on the outskirts of the district at 1 pm (0830 GMT)," said Mohammad Ali Ahmadi, deputy provincial governor.
He said that three other police officers in the car were injured. In the northern province of Faryab, four civilians including two children were killed by a remote-controlled bomb
"The militants had concealed the bomb in a water container in Dawlat Abad district, and asked a child to carry the container to the district governor's house," said Javed Bedar, the spokesman for the provincial governor.
Nine civilians and a police officer were injured in the explosion, Bedar said.