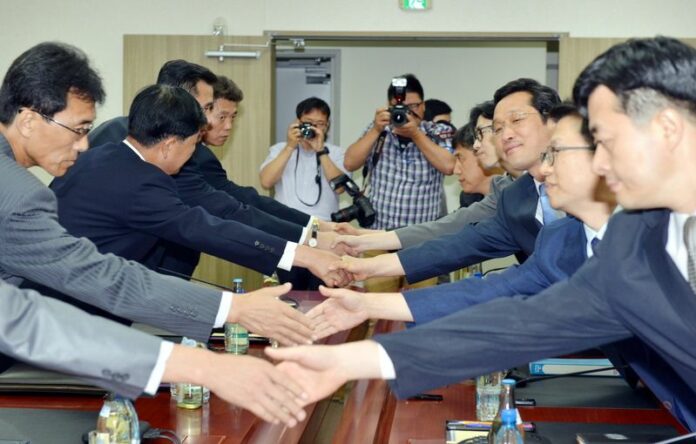 By Dirk Godder
SEOUL (DPA) — North Korea made a surprise bid Monday to reduce tensions with South Korea, one day after its latest missile launches.
Both countries should end military hostilities, psychological warfare and mutual criticism beginning this week, North Korea's National Defence Commission said in reports carried by state media.
Seoul must scrap annual joint military drills with the United States planned for August if it wishes to take up the North's proposal, said the commission, the most powerful decision-making body in the Stalinist country.
North Korea continuously criticizes US-South Korea manoeuvres as a prelude to an invasion and has responded to them with missile launches and threats.
In another of the proposal's potential deal-breakers, the commission made it clear that the South should not criticize the North's nuclear programme. This demand is considered unacceptable by Seoul.
While such a conciliatory gesture is rare from Pyongyang, it has a history of making friendly moves towards its neighbour only to follow them with hostilities, including nuclear tests and threats of nuclear attacks.
Monday's proposal followed the launches Sunday of two short-range missiles by North Korea into the sea east of the Korean Peninsula, according to South Korea's military.
North Korea also said Friday that it had successfully tested a guided missile after, according to Seoul, it fired three short-range missiles a day earlier, also into the Sea of Japan, which is called the East Sea by the two Koreas.
South Korea reacted cautiously to Monday's proposal. "We will analyse the proposition by the commission," its Unification Ministry said.
North Korea made similar overtures at the beginning of this year. At that time, the South's Defence Ministry accused the neighbouring country of trying to justify its "own warlike behaviour."
Since then, tensions have heightened between the Koreas. An exchange of fire occurred along their maritime border at the end of March. Pyongyang carried out live-fire artillery exercises in April and a series of missile launches in March, seen partly as retaliation for joint manoeuvres by US and South Korean forces earlier in the year.
The latest North Korean proposal came just days ahead of a state visit to South Korea by President Xi Jinping of China, Pyongyang's most powerful ally.
He plans to meet South Korean President Park Geun Hye Thursday, and North Korea's internationally condemned nuclear and missile programmes are likely to take centre stage.
The National Defence Commission suggested its proposals take effect Friday to improve conditions for dialogue.
"Let's take practical steps for bringing about a new phase of reconciliation, cooperation and national prosperity," it said.
The United States said it supports better inter-Korean relations but insisted that the US-South Korea military exercises are "defence-oriented."
State Department spokeswoman Jen Psaki said the exercises happen at the same time every year, and are a "regular part of what happens in the region."